Story Progress
Back to home
Lewis Hamilton Didn't Self-Destruct, Says Nico Rosberg
Nico Rosberg roared to victory at Suzuka with Lewis Hamilton trailing in third, stretching his cushion to 33 points with just four races left this season.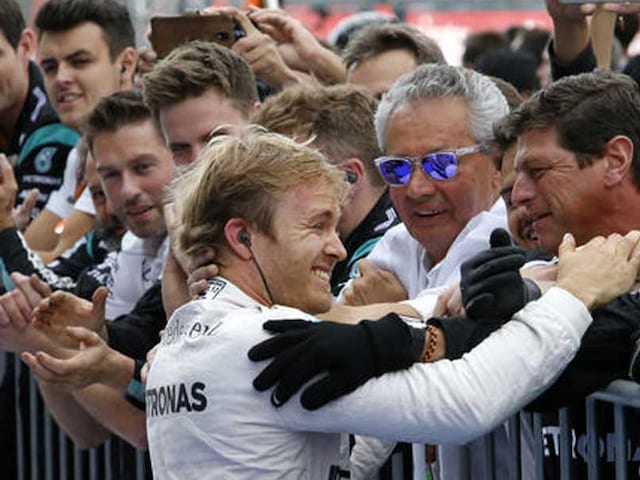 Nico Rosberg leads Mercedes teammate Lewis Hamilton by 33 points in the drivers' championship.
© AP
Highlights
Nico Rosberg won the Japanese Grand Prix for the first time

He leads the drivers' championship by 33 points

Lewis Hamilton is second in the championship race
Suzuka:
Nico Rosberg warned that Lewis Hamilton was still capable of fighting back to retain his Formula One title despite dealing his British rival a crushing blow in Japan on Sunday.
The German roared to victory at Suzuka with Hamilton trailing in third, stretching his cushion to 33 points with just four races left this season.
Hamilton complained he had been the victim of sabotage after suffering an engine fire in Malasyia last weekend, ruffling feathers in the Mercedes garage.
He then snubbed media in Japan after being criticised for fiddling with his mobile phone and uploading photos to Snapchat during a press conference, leading to one British tabloid dubbing him "Snap-Prat".
But despite evidence to the contrary, Rosberg denied that his team-mate had lost the plot.
"I haven't seen any self-destruction," he insisted after powering to his ninth win of the year.
"The Lewis I saw was massively motivated. I can tell you behind the scenes he's as focused as ever.
"He always is, especially after a setback like Malaysia," added Rosberg.
"He was working the longest hours I've seen him working in many, many months with the engineers. Anyways, it's about getting the best out of myself and not focusing on what Lewis's state of mind is."
Rosberg, whose Finnish father Keke won the Formula One title in 1982, was refusing to count his chickens after finally winning at Suzuka.
"Lewis is my team-mate so he's always going to be fighting, always going to be tough to beat," said Rosberg, who clocked the quickest practice times and qualified on pole in an utterly dominant weekend at Suzuka.
"That's a healthy margin for Nico, he did a great job, so congrats to him"

Thoughts from the #JapaneseGP top 3 >> https://t.co/9EkPFoFp8Z pic.twitter.com/xNgjPR6CpR

— Formula 1 (@F1) October 9, 2016
"I'm well aware of the 33 points of course, but there are still many races to go so I'm just keeping my head down."
After playing bridesmaid to Hamilton the last two years, Rosberg is in the form of his life and will take some catching after recording his fourth victory in five races.
"From the get-go I felt really comfortable," said the German. "It's one of those old-school, legendary tracks and a big challenge because you can't put a foot wrong anywhere.
"But I was able to push all the way through and I got everything right so it's really been a perfect weekend."
Asked to divulge the secret of his ice-cool demeanour this term, Rosberg shrugged.
"For me it's just a process," he said. "(I'm) pushing in all directions just trying to be better every time. I love pushing myself to higher levels."
Rosberg could not resist the slyest of digs at Hamilton, however, when asked how he dealt with jet-lag with the next race coming in Austin, Texas in two weeks.
Promoted
"Actually Lewis should be the master," he said, seemingly referring to Hamilton's famous playboy lifestyle.
"If you need advice on that you need to ask him because I think he's a genius."