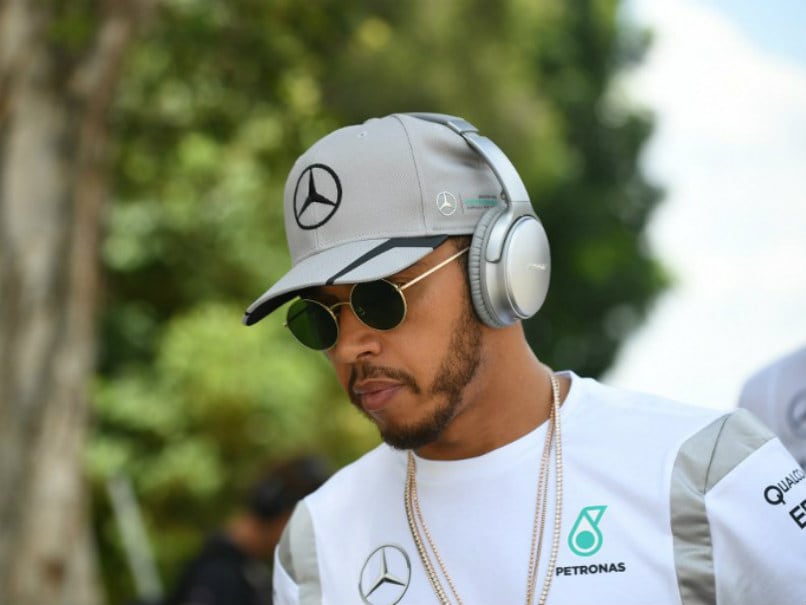 Lewis Hamilton is trailing Mercedes teammate Nico Rosberg by 23 points in the championship.
© AFP
Tokyo:
Lewis Hamilton needs a quick fix of Zen-like mind control in Japan this weekend after a cruel engine fire left the world champion fuming in Malaysia.
Hamilton angrily demanded an explanation from his Mercedes team after his hopes of halting Nico Rosberg's surging momentum went up in smoke last Sunday, allowing Daniel Ricciardo to lead Red Bull's first one-two in nearly three years.
As Rosberg opened a 23-point advantage in the title standings with five races remaining following his third-place finish, Hamilton raged at his misfortune and threatened to ignite a row within the Mercedes team by raising the possibility of a conspiracy against him.
"My questions are to Mercedes," Hamilton demanded after Sepang, asking why of the eight cars on the grid fitted with Mercedes engines, only his have conked out this season.
"There are eight drivers and mine are the only ones who has failed. Someone has to give me some answers and it is not acceptable. Someone doesn't want me to win this year."
Hamilton has only a matter of days to dust himself down in a quick turnaround before Japan, but he can seek solace in the fact he has won in Japan three times and will be chasing a hat-trick of wins -- and the 50th of his F1 career -- in Suzuka on Sunday.
Mercedes team principal Toto Wolff called Hamilton's engine trouble "a freaky coincidence" and challenged Hamilton to bounce back in the title run-in.
"Our guys will get to the bottom of what happened and learn from it," he promised. "But I want to focus on how Lewis responds in the aftermath. We let him down today and we are beating up ourselves about it."
Test of will
After composing himself, Hamilton said: "I honestly feel that it's a test of my will, my spirit and who I am as a person to get back in and keep fighting it head on. It's not how you fall, it's how you get back up."
During a turbulent weekend in Malaysia, Hamilton had also moaned about the "psychological effects" of breaking up his title-winning crew by switching five mechanics to Rosberg's side of the garage.
On my way to Tokyo
Topics mentioned in this article
Mercedes , 1900-01-01 , Germany
Red Bull , 1900-01-01 , Austria
Lewis Hamilton , 1985-01-07 , Great Britain
Daniel Ricciardo , 1989-07-01 , Australia
Nico Rosberg , 1985-06-27 , Germany
Suzuka , 1900-01-01 , Japan
Sepang , 1900-01-01 , Malaysia
Malaysian Grand Prix , 1900-01-01 , Malaysia
Japanese Grand Prix , 1900-01-01 , Japan