Story Progress
Back to home
Bastian Schweinsteiger Signs For Chicago Fire: Manchester United
Bastian Schweinsteiger, a key member of Germany's 2014 World Cup-winning team, heads to the United States after an unhappy stint with Manchester United.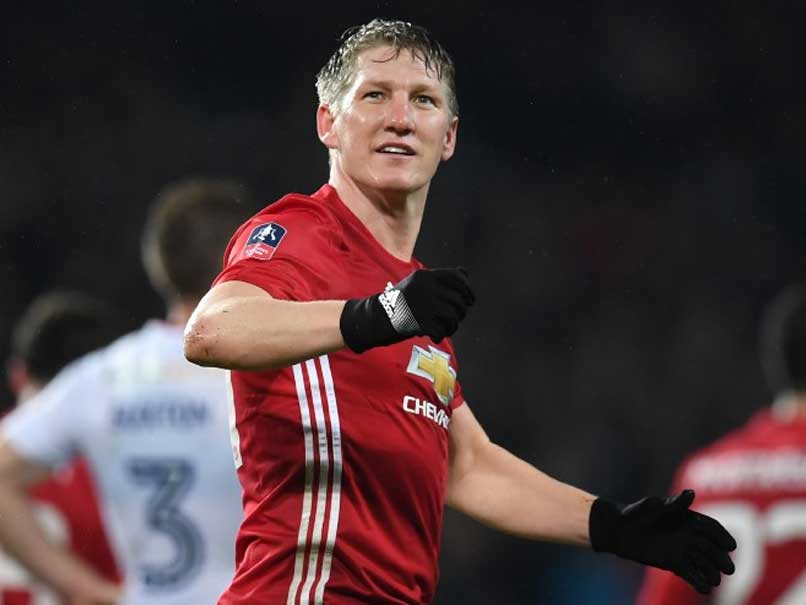 Bastian Schweinsteiger will play for Major League Soccer side Chicago Fire in the United States.
© AFP
Highlights
Bastian Schweinsteiger played for Germany from 2004 to 2016

He was part of Germany's 2014 World Cup-winning campaign

He also captained Germany after Lahm's retirement
German football great Bastian Schweinsteiger will head to the United States of America to play in Major League Soccer (MLS) for Chicago Fire after an unhappy stint at Manchester United under Portuguese manager Jose Mourinho. Theformer Germany captain has signed for Chicago Fire, the Premier League club confirmed on Tuesday. Schweinsteiger, a key member of Germany's 2014 World Cup-winning team, heads to MLS after being frozen out by Mourinho at Old Trafford.
The 32-year-old, who scored 24 goals in 121 appearances for Germany, will join Chicago subject to a medical and a visa being obtained.
"I am sad to leave so many friends at Manchester United," Schweinsteiger told the Manchester United website.
"But I am grateful to the club for allowing me the chance to take up the challenge at Chicago Fire."
Schweinsteiger, who is married to now retired former women's tennis world number one Ana Ivanovic, expressed his thanks to Mourinho and his team-mates.
"I have enjoyed working with the manager, the players and staff here and wish them all the best in the future," he said.
"But I have to reserve special thanks to the United fans -- whose support has been a very special part of my time in Manchester.
"I was delighted to be part of the squad that won the FA Cup for them last season and will always remember their energy and their passion. Now is the right time for me to start a new chapter in Chicago and I am looking forward to it."
Thanks to all fans, the whole staff and my teammates of @ManUtd! I will never forget my time with the club, but now it's time for a change! pic.twitter.com/zYn2o5Cjsk

— Basti Schweinsteiger (@BSchweinsteiger) March 21, 2017
United kept their tribute to one line with no comment from Mourinho.
"Everybody at United would like to wish Bastian the very best of luck in his new career in the United States," the club said on its website.
On Monday Chicago Fire general manager Nelson Rodriguez said the signing of Schweinsteiger brought added responsibilities and expectations for the team's performance.
"We're adding someone who has won at every level, including the very highest levels, and has done so in a way that is consistent with our values," Rodriguez was quoted as saying by the Chicago Tribune.
"We as a club will now be forced to hold ourselves to a higher standard, an accountability level.
"Previously, I think we could satisfy ourselves with what is known domestically. Now we need to rise to a standard that is set more internationally."
'I'm convinced by the club's vision'
Schweinsteiger played his entire club career with German giant Bayern Munich before joining Manchester United in 2015.
The Tribune cited an unidentified club source as saying that Schweinsteiger had signed a one-year deal worth $4.5 million, a salary that makes him one of the highest-paid players in the MLS.
"Throughout my career, I've always sought opportunities where I hoped to make a positive impact and to help make something great," Schweinsteiger said in a statement quoted by the Tribune.
.@BSchweinsteiger to join Chicago Fire, subject to medical and visa: https://t.co/CyYuBV4HdG

All the best, Bastian. 👍 #MUFC pic.twitter.com/XKSUA6XJO2

— Manchester United (@ManUtd) March 21, 2017
"My move to Chicago Fire is no different. Through my conversations with Nelson and (head coach Veljko Paunovic), I'm convinced by the club's vision and philosophy and I want to help them with this project."
Paunovic said the seeds of Schweinsteiger's move had been sown by a lunch with the German star in Manchester last year.
"The conversation was so spontaneous, so natural and so inspiring for both sides," Paunovic said.
"At one point it became a very personal conversation. I think that also helped for both sides to understand how we can help each other and how much value we can get from this for both sides."
The Chicago team has endured a mixed start to the new MLS season, taking four points from their opening two games before suffering a 4-0 thumping by expansion side Atlanta last weekend.
Chicago's lone success in the MLS Cup came in 1998 and for the past four seasons the team has failed to reach the playoffs.
(With inputs from AFP)
Topics mentioned in this article