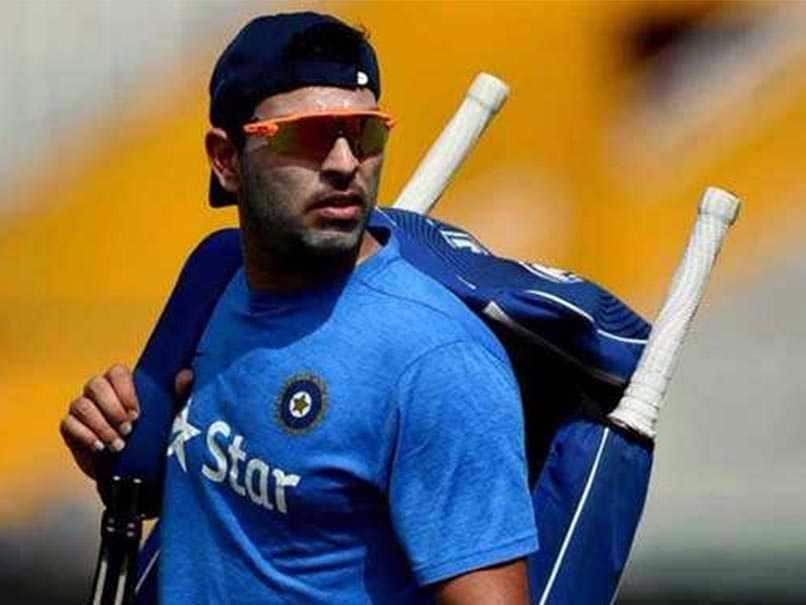 Yuvraj Singh has only one match for Punjab in the Ranji Trophy 2017 so far.
© AFP
India discard Yuvraj Singh has missed four out of five of Punjab's Ranji Trophy games to do fitness training at the National Cricket Academy (NCA). This decision of Yuvraj has raised eyebrows in some section of the BCCI as he is not suffering from any injury at the moment. However, in the lone match that he has played against Vidarbha, the left-handed batsman scored 20 and 42 respectively. It is learnt that Yuvraj is bent on clearing the Yo-Yo fitness test, which he has failed in the past, but it has been at the expense of competitive matches.
Keeping in mind that India discards are not priority options in the Indian Premier League (IPL) auction, a comeback in the Indian national team will boost the batsman's chances to be back in the IPL auction pool and for franchises.
"There aren't any reports that Yuvraj is doing rehabilitation but we have come to know that he is doing exclusive fitness training to pass the Yo-Yo test. Now whether taking Ranji Trophy for granted is a good thing or not, Yuvraj has to decide.
"Does this mean that if he attains 16.1 (fitness parameter set by Indian team management) and is without any runs behind him, he will be selected for the Sri Lanka limited overs series?" a very senior BCCI official told PTI on conditions of anonymity.
"We heard that Yuvraj has told the Punjab team management that he has been asked by the Indian team to do fitness test whereas selectors have always stressed on Ranji Trophy performance. Look at Ishant Sharma. He is a part of Indian team but he was released a day before Kolkata test so that he can play Ranji Trophy against Maharashtra," the official added.
It is not yet clear whether chief selector MSK Prasad, who had been an advocate of playing matches, was kept in the loop about this decision.
In less than a month, Yuvraj will be celebrating his 36th birthday and his fielding has gone down by a notch. He hardly bowls his slow left-arm spin that was instrumental in India's 2011 World Cup triumph.
The left-hander has played 40 Tests, 304 ODIs and 58 T20 Internationals in his 17-year-career scoring 1900, 8701 and 1177 runs across the respective formats.
There is a school of thought doing rounds that if Yuvraj is selected against Sri Lanka, there is a possibility that it could well be his swansong series for the Indian team as it looks forward towards the 2019 World Cup.
(With PTI inputs)