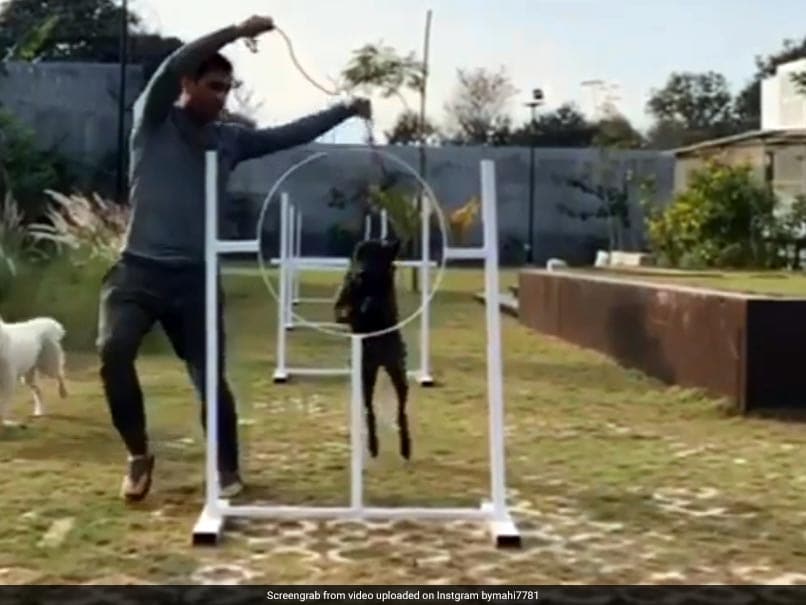 MS Dhoni shared a video of him training his dogs on Instagram.
© Instagram
Throughout his international career, MS Dhoni has never let the speculation surrounding his game bother him. His approach to the latest debate surrounding his position in India's T20 side has been no different. After India's 2-1 series win, several former players felt that the time was right for Dhoni to exit the T20 side in favour of a younger player. Unperturbed by all that's happening around him, the 36-year-old spent some time at this Ranchi farmhouse training his dogs. Dhoni, who usually stays away from social media, shared a short video of the same. "ZOYA(Dutch shepherd) does some training and LILY(husky) does the cheering job," he captioned his Instagram post.
In the past too, Dhoni has uploaded photos and videos of him spending time with his dogs.
After former players like Ajit Agarkar, VVS Laxman and Aakash Chopra opined that Dhoni should make way for younger players in T20 cricket, skipper Virat Kohli launched a fierce defense of his predecessor. This was followed by head coach Ravi Shastri described those wanting Dhoni out as 'jealous'. Former India captain Sunil Gavaskar too has voiced his opinion in favour of the wicketkeeper-batsman.
Dhoni, who usually refrains from addressing issues of this nature, opened up about his recent criticism.
"Everybody has views in life and it should be respected," he said.
Dhoni stated that representing the Indian cricket team was his biggest motivation