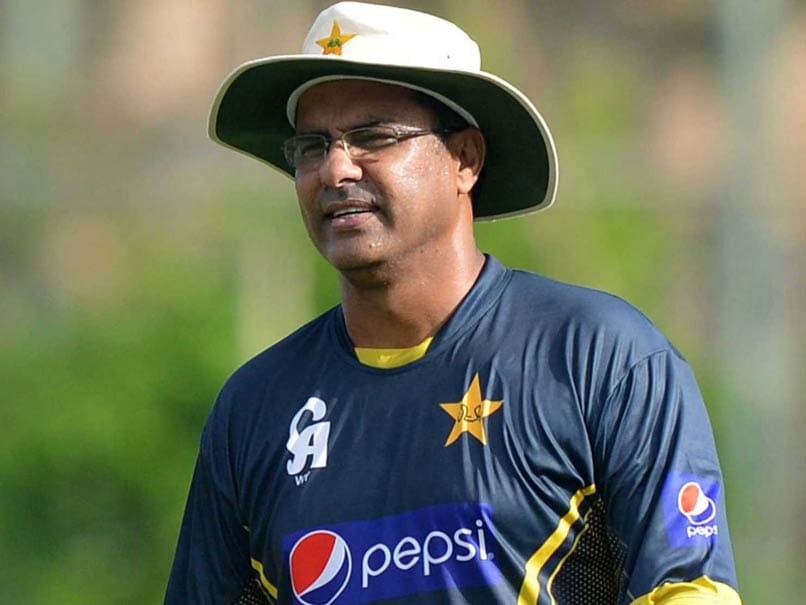 Waqar Younis has demanded red cards for match officials too.
© AFP
Are rules meant for just players? Shouldn't officials also be penalised when they cross the line? Former Pakistan cricketer Waqar Younis has demanded red cards for match officials too after umpire Richard Kettleborough was seen showing displeasure after his on-field decision had been overturned by the TV umpire during the first Test between Pakistan and Sri Lanka. The English umpire had given a Sri Lankan batsman out LBW. However, after the DRS was taken, replays showed that the ball had struck the bat before thudding into the pad.
After the decision was overturned, Kettleborough gave the sign for 'not out' but not before showing his obvious displeasure and mumbling a few choice words.
Waqar posted a video on this Twitter about the incident. "Lets see how good are u in lip reading !!! should'nt the red cards be flashed against match officials if they cross the line ??? PAKvsSL," Waqar's post read.
Contrary to what Waqar might have believed, cricket fans were not in agreement with what the former Pakistan bowler had to say.
LOL ! If you start penalizing players / officials by lip reading then the only ones left in the ground would be the stumps and Hashim Amla!

— Dr. Naveed Alvi (@Nav_Derm) September 29, 2017
I remember you using the same word a lot in your bowling spells ??

— Sadaf (@SadafThought) September 29, 2017
100 chuhe khakar billi haj Ko chali..??
Waqar bhai, aap lip reading ki baat na hi kare to behtar hain

— Sunny Raut (@RautSunny03) September 29, 2017
Under the new rules, cricket players can be -- like in football -- ordered off the field if they commit major offences.
Threatening to assault an umpire, making inappropriate and deliberate physical contact with an umpire, physically assaulting a player or any other person and committing any other act of violence will be deemed Level 4 offence -- warranting marching orders.
A player can now be sent off the field for the rest of the match if a Level 4 offence is committed. Level 1 to 3 offences will continue to be dealt with under the ICC Code of Conduct.
Queensland fielder Marnus Labuschagne became the first cricketer to breach the new regulations of 'fake fielding' since the International Cricket Council (ICC) implemented the changed rules.