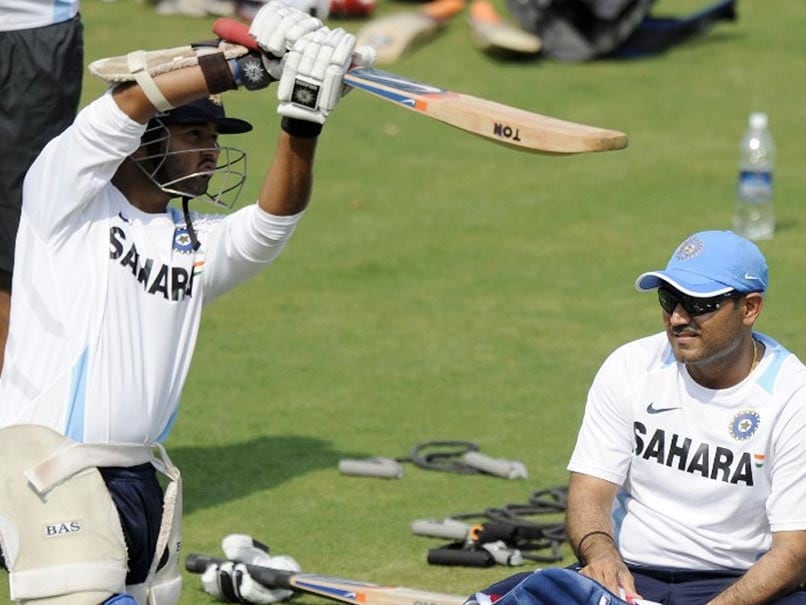 Virender Sehwag and Parthiv Patel's delightful Twitter exchange entertained fans.
© AFP
Be it on the pitch or off it, Virender Sehwag tends to connect it cleanly when he steps out. On Wednesday, Sehwag experienced one of his rare off days where he not just failed to connect but ended up being stumped. The former India opener's banter with wicketkeeper-batsman Parthiv Patel ended with the latter hitting the winning run. Sehwag, known for his wit and sarcasm, tweeted to Parthiv, who is currently on international duty in South Africa. Pathiv's sharp response drew laughs and applause from cricket fans.
?? ????? ?????? ???z ??? ???? ???? ??? ?? ???? ??? ?? ????? ? pic.twitter.com/9CG0LoGUlN

— Virender Sehwag (@virendersehwag) January 10, 2018
Nikke @parthiv9 , Bhai wicket keeping gloves hain wahaan ya bhejoon ! https://t.co/qJe34WlEqh

— Virender Sehwag (@virendersehwag) January 10, 2018
Idhar meri perfect size wale bahut gloves le ke aaya hu.. ise udhar hi rakhe aap..delhi mai thand Badh gayi hai to ghar me kisi ke Kaam aaynege...

— parthiv patel (@parthiv9) January 10, 2018
Pathiv's reply to his senior Sehwag left his fans and followers in splits
Ayyyoooo hilarious ????????

— Sneha (@Shinde25sneha) January 10, 2018
@virendersehwag st out by @parthiv9

— RAJ KUMAR GUPTA (@RK52448807) January 10, 2018
Perfect reply ????

— Yavar Patni (@yavarpatni28) January 10, 2018
Unlike the offer of gloves he had for Parthiv, Sehwag had something more serious in mind for the Indian team in South Africa.
"Don't fiddle with deliveries outside the off-stump will be my advise to the batsmen. Play as straight as possible. Your 'go to' shots should be straight drive and flick. Get prepared to be hurt by some short stuff. Rather than trying to fend off short balls, get prepared to take blows on your body," Sehwag told a news channel.
"The tennis ball bounce in South Africa means that it will be very difficult for any batsman to get bowled. So one needs to stay positive and try to score runs at the rate of at least three runs per over," he concluded.
Sehwag, who hit a hundred on debut in Bloemfontein back in 2001, reckons that India now only have around "30 percent chance" of making a return to the Test series.
"As of now, it looks like only 30 percent chance is there of making a comeback. It is going to be very tough from now on. Also the Indian team management should look whether conditions at the Centurion warrant a place for Ravichandran Ashwin," Sehwag said.
Sehwag also said that India should go in with six specialist batsmen and four bowlers.