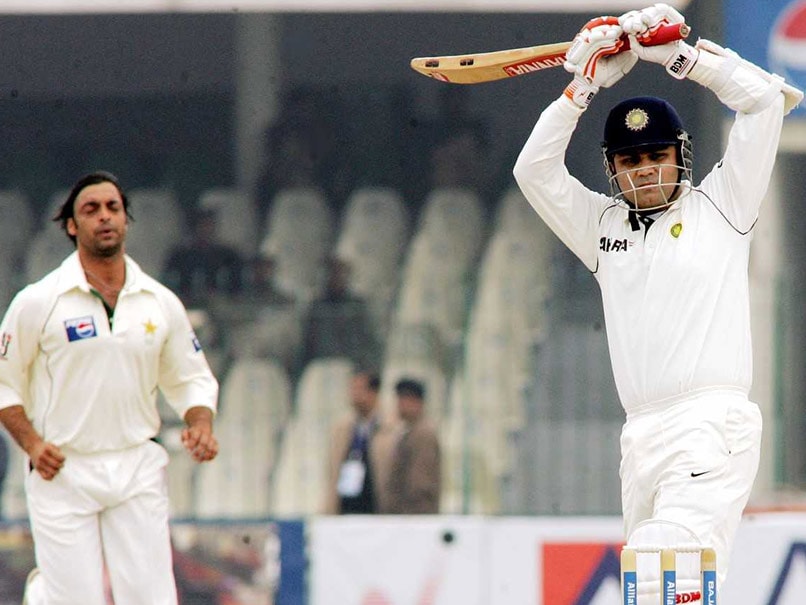 The rivalry between Virender Sehwag and Shoaib Akhtar will be renewed once again.
© AFP
The long-standing rivalry between Virender Sehwag and Shoaib Akhtar will be renewed when they face one another. But the difference is that this face-off will be on an ice field rather than on a cricket ground. The event, called St. Moritz Ice Cricket, will be played in February next year, in Switzerland with the Swiss Alps as the backdrop. Cricket on ice has been played in St. Moritz by a bunch of amateurs since 1988 but it will be for the first time that greats of the game will grace the Alpine resort. The Twenty20 matches will be played on February 8 and 9.
Besides Sehwag and Shoaib, Mohammad Kaif, Mahela Jayawardene, Lasith Malinga, Michael Hussey, Graeme Smith, Jacques Kallis, Daniel Vettori, Nathan McCullum, Grant Elliot, Monty Panesar and Owais Shah will be part of the tournament.
The tournament has been launched with an aim to establish the sport in an unchartered territory like Switzerland. Organiser Vijay Singh of VJ Sports claims the pilot project has the approval of world body ICC.
Sehwag is not new to playing exhibition games outside India. He played the MCL in Dubai and was also part of Cricket All Stars which was played in the USA two years ago.
"I was still playing first-class cricket in 2015 so it was not very difficult to play those matches. Now since I have stopped playing the game completely, it will be a challenge to get into the groove," he said.
"But there will be no pressure to win or lose. Also, now that I am retired I don't need to take anyone's permission including the BCCI," he quipped.
Players will use the traditional cricketing gear including the red-ball but will wear sports shoes instead of spikes. The weather is expected to be nice and sunny during the day but the temperatures can dip to as low as -20 degree Celsius.
The matches will be played on matting pitch.
-Cricket needs to grow to be an Olympic sport-
Former India opener Virender Sehwag feels cricket needs to played in more countries if the game has to make its way into the Olympics.
The International Cricket Council (ICC) comprises 105 members but only 12 are full members. The world governing body is pushing for the game's inclusion in the 2024 Games. The only time cricket was part of Olympics was way back in 1900.
"I think it is ICC's call. They need more nations to play cricket, then it can be part of Olympics. Twelve teams (full members) are not enough," said Sehwag on the launch of St. Moritz Ice Cricket on Wednesday.
(With PTI inputs)