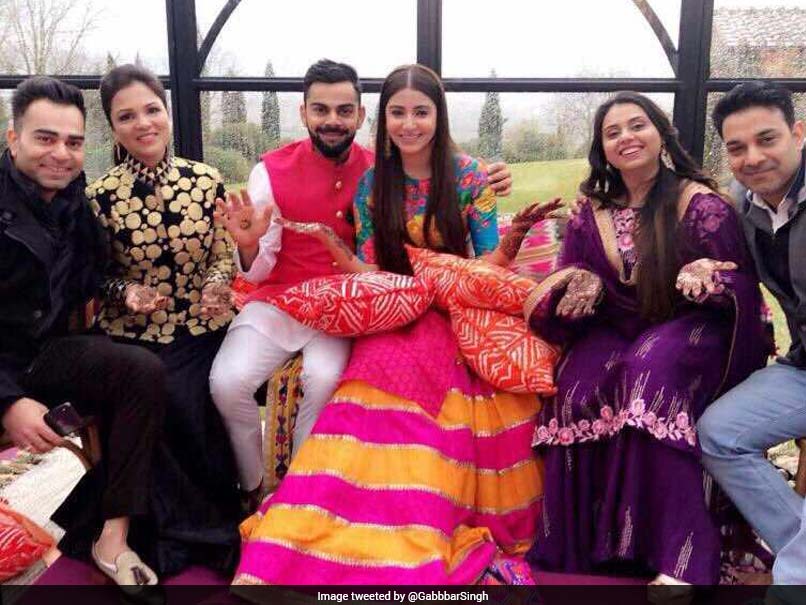 Virat Kohli and Anushka Sharma tied the knot on Monday in Italy
© Twitter
When the news first broke that Virat Kohli and Anushka Sharma were seeing each other, it didn't take much time for Twitter trolls to come out of their caves and start speaking about the Bollywood star being a distraction for Indian cricket's rising star. Well, for all the naysayers here is the truth. Virat Kohli and Anushka Sharma have been together since 2014, after having met in 2013 during a commercial shoot. The 29-year-old has scored 19 ODI centuries and 17 Test hundreds since the time he started dating Anushka. Out of his 52 hundreds, Kohli has managed to amass 36 tons across all formats and has become a prolific run scorer for India. (Virat and Anushka's journey in pics)
Initially, both were in denial mode right from the time they met till November 2014, when Virat went public.
"Whatever is there is out in the open, I have nothing to hide," he said during an event. Anushka soon followed suit. "We are not hiding anything. We are being two normal young people in a relationship," she said on a separate public forum.
Since then, the Indian skipper has come a long way and has been seen praising Anushka on a number of occasions for her presence in his life and how he has become a more matured person ever since he met her during a commercial shoot.
That seems to have rubbed onto his performance on the field as well.
Only recently, Kohli equalled Ricky Ponting's world record of most successive series wins as captain as India claimed the three-match Test series against Sri Lanka at Feroz Shah Kotla, earlier this month.
With the series victory, Kohli had now led India to nine consecutive Test series wins. The Indian captain equalled former Australia captain Ricky Ponting's record which he achieved in 2008.
Kohli's graph as a batsman has hit top gear in the last couple of years. Kohli ended up with a massive 610 runs in the Sri Lanka series at an average of 152.50. According to the latest International Cricket Council (ICC) rankings, Kohli has moved up three places to grab second position among batsmen after registering his career-best score in the third Test against Sri Lanka.
In the year 2017, Kohli has not only broken Brian Lara's record by scoring the most double hundreds as Test captain but also ended the year with 2818 runs that includes 11 centuries at the international level.