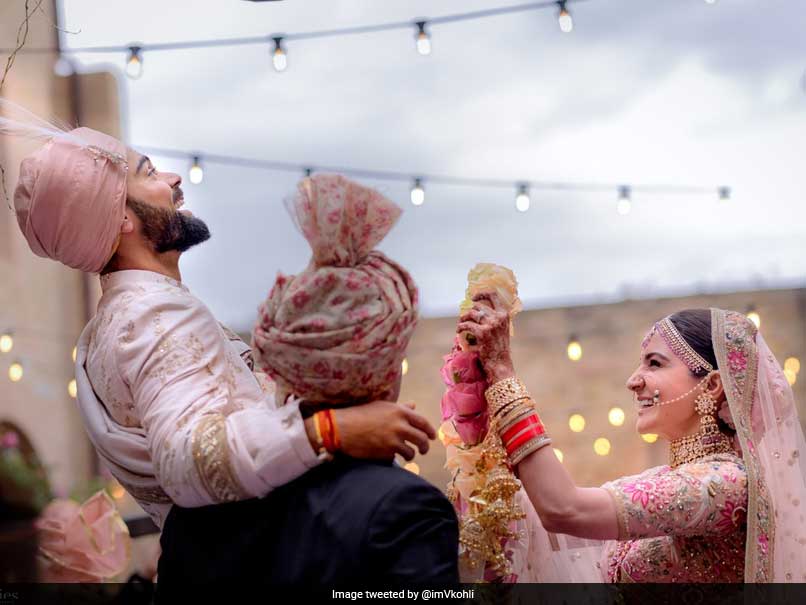 Virat Kohli and Anushka Sharma got married on December 11 in Tuscany, Italy.
© Twitter
Virat Kohli and Anushka Sharma got married on December 11 in a private ceremony in Tuscany, Italy. The wedding had the entire country hooked and the beautiful setting of the venue got everyone talking. However, the star couple's wedding designer Devika Narain has revealed that weather threatened to play spoilsport during the festivities. In an interview with BBC, Devika said that thanks to the Italian weather the entire wedding had to be moved from an outside setting to an indoor courtyard.
When asked if there were any panicking moments during the wedding, Devika told BBC, "The weather completely. It's winter here (Italy) and nobody gets married in the winters here. On the morning of the 'mehendi', we all woke up to a completely white landscape and the dew had frozen, it had frozen all over the tent and by noon it was dripping. The wedding was supposed to be completely outdoors and it had to be moved to an indoor courtyard."
The private function took place in Borgo Finocchieto, a lavish spot in Tuscany and the newlyweds were surrounded by a close group of loved ones from both sides of family and Devika revealed that all of the ideas for the wedding belonged to the "typical bride" Anushka.
"Anushka is a typical bride and I did not expect that. She had reference photos, she was incredibly invested in every single decision and detail. All of this was her idea and we were all just people who mapped it out for her. From the way the venue was chosen, it was this big Tuscan villa. The flow of the functions was like a typical Indian wedding. We had a welcome lunch, a sangeet and engagement on the first day. The second day was a bright colourful mehendi and that night was a typical bonfire night. It rained out, so we were all huddled next to a giant campfire, there was karaoke, everyone was singing. The third day was the grand finale," said Devika.
She also revealed that an anthology of Rumi's poems were given as return gifts to the guests.
"Anushka and Virat are extremely spiritual people, I don't know how many people know this about them. She wanted everything to be about growth and prosperity, so the whole wedding was in fact inspired by the idea of an overgrown garden. They are big fans of Rumi and his poetry, so an anthology of his poems was given as a take back present for all the guests."
The most important aspect of the wedding in Italy was the secrecy surrounding it and when asked how she managed to keep a secret, Devika said,"It was so tough. I remember when we were planning the wedding and we knew who was getting married, we wouldn't even take their names. When I met them for the first time, I couldn't even say Anushka to her face because I kept saying bride. She asked me 'what is wrong with you and I said 'we have conditioned ourselves to not take your names because we have to keep it a secret.
Anushka and Virat will return to India for their two wedding receptions - the first, for their family members in Delhi, will be hosted on December 21 and later on December 26, the couple will party with their colleagues in Mumbai.
After that, Anushka will travel with Virat briefly to South Africa and return in the new year to complete her pending projects.