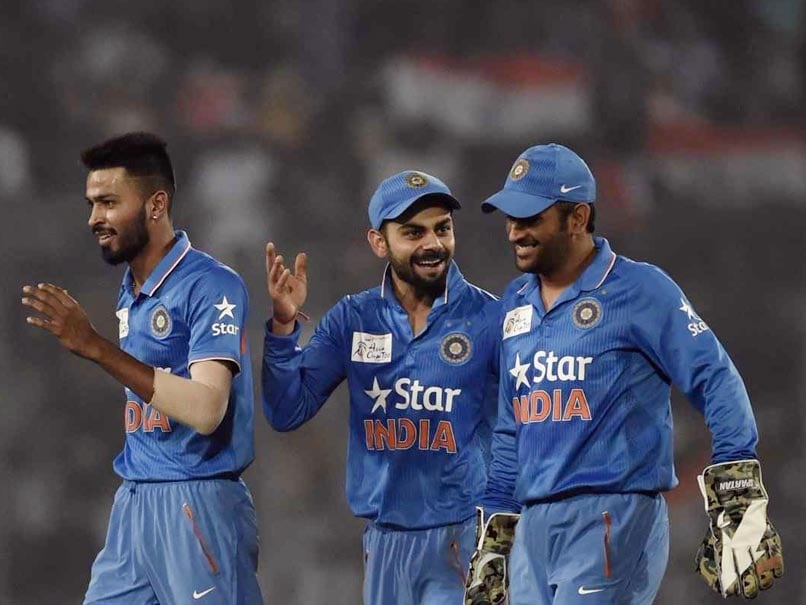 Hardik Pandya (L), Virat Kohli (C) and Mahendra Singh Dhoni react during a match
© AFP
Indian all-rounder Hardik Pandya has received plaudits for his performances on the cricketing field. He is being favoured to become the next Kapil Dev and also India's version of South African legend Jacques Kallis. Speaking to Gaurav Kapur on the 'Breakfast with Champions' show, Pandya revealed that he looks up to current skipper Virat Kohli and former India captain Mahendra Singh Dhoni. He further went on to call both his senior teammates as role models. "The way they (Dhoni and Kohli) are, I want to be like them. I want to be disciplined like them. I try to notice why they are like this." He added that both the cricketers are mentally strong because of which they are what they are.
Talking about Kohli's attitude both on and off the field, Pandya said that he was passionate during the game and it is that thing which kept himself going during a match.
Pandya, however, struggled in his early days, before he played for Mumbai Indians in the IPL and Team India. During the chat, he recalled the adverse times when he had to save money in order to pay for his car EMI. He added that he used to hide his car so that it wasn't taken away by the authorities for not paying the EMIs.
"I have struggled for three years. We used to save Rs 5 and Rs 10. I still remember in IPL, we got around Rs 70,000 and we thought we would survive on it for some time. Because we were struggling for almost three years then.
"We had not paid EMI for two years. We were smart, we used to hide our car. We didn't want the car to go. Everything we earned in those three years was supposed to be saved for the car rather than having something new for us or buying something. It was just car's EMI and food that mattered to us at that time," he said.
But things changed for the better. He had a successful stint for Mumbai Indians in 2015 and helped them win the IPL. A year later he made his debut for the Men in Blue.
"God is kind. My first year, we won the IPL and then I got a cheque of Rs 50 lakhs. From there, I got a car for free and I bought a new car as well. Imagine, three months back we were struggling and fighting for money and within three months I have Rs 50-60 lakhs in my pocket. It was all about saving at that time," he added.
Pandya made his Test debut against Sri Lanka at the Galle International Stadium on July 26, 2017 and hit a fifty. His talent is there for all to see and his future in Kohli's team appears bright.