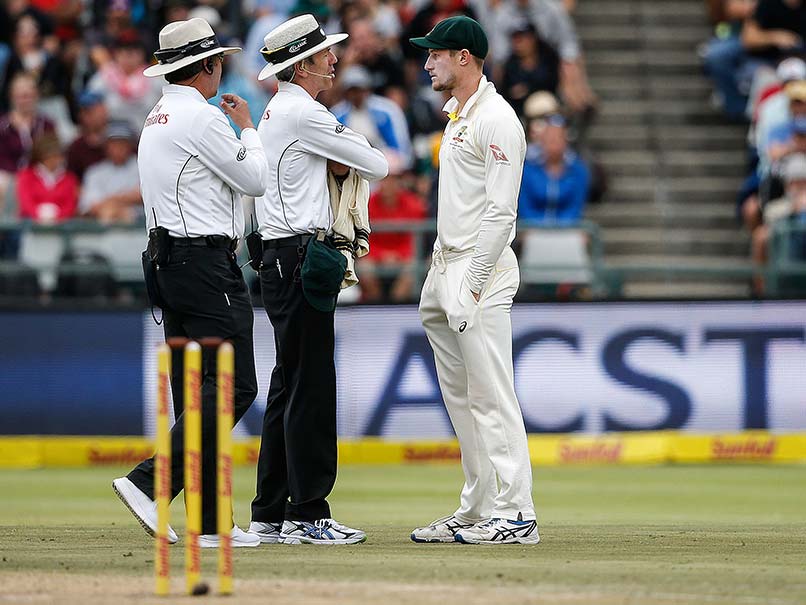 Smith admitted to ball-tampering charges after Bancroft tried to alter the condition of the ball.
© AFP
Australia captain Steve Smith admitted to ball-tampering charges after his team-mate Cameron Bancroft tried to alter the condition of the ball on the third day of the third Test against South Africa at Newlands in Cape Town on Saturday. After the incident, the Australian media came out all guns blazing against their cricketers and slammed them for bringing disgrace and humiliation to the country. The International Cricket Council (ICC) fined Smith 100 per cent of his match fees and handed him a one-Test ban. The 25-year-old Bancroft got a 75 per cent fine and three demerit points for ball-tampering incident.
Here's a timeline of the ball-tampering saga unfolded in Cape Town:
LUNCH, DAY 3: South Africa go to lunch with a lead of more than 100 runs for the loss of one wicket. Smith and other players hatch a plan to tamper with the ball to gain reverse swing. Bancroft is chosen to carry out the task.
TAMPERING: Bancroft uses yellow sticky tape and grit from the pitch to work on the ball while attempting to shine it.
CAUGHT ON CAMERA: Host broadcasters repeatedly show close-up footage of Bancroft rubbing the ball. The 25-year-old was seen holding a yellow object while rubbing the ball, before hiding the object in his pocket, then inside his trousers.
DARREN LEHMANN: The head coach is seen talking on a two-way radio with substitute fielder Peter Handscomb, who is out on the field with a similar device and is relaying the communication to Bancroft.
TAPE: Television images show Bancroft, after being alerted, shoving the tape clumsily down the front of his trousers to keep it out of the gaze of the umpires. Bancroft later admitted he was nervous and panicked when he realised that cameras in the stadium had caught him in the act.
UMPIRES: The on-field officials confront Bancroft who produces a black sunglass bag from his pockets and the umpires then allow play to continue.
POST-MATCH CONFERENCE: Smith admitted the side's leadership group had planned to tamper with the ball. Bancroft said he was charged by the ICC with a Level 2 offence for attempting to alter the condition of the ball.
(With Reuters inputs)