Story Progress
Back to home
Supreme Court vs BCCI: Hearing Adjourned to December 14
The BCCI's case was deferred in view of important cases pending before the Supreme Court. The cricket officials would be relieved to get additional time to make a stronger case for themselves.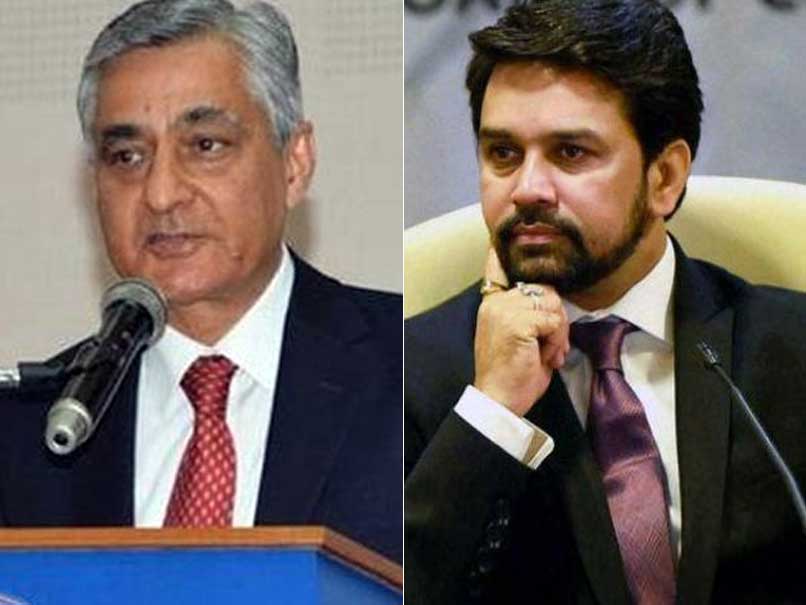 The Anurag Thakur-led BCCI is awaiting TS Thakur-led Supreme Court's verdict.
© NDTV
Highlights
Supreme Court will hear BCCI-Lodha case on December 14

Lodha Committee had recommended administrative reforms in the BCCI

Supreme Court had asked Lodha panel to appoint independent auditor
The Supreme Court on Friday adjourned the hearing on the vexed issue of Board of Control for Cricket in India (BCCI)'s stand on Lodha panel recommendations to December 14. The bench, headed by Chief Justice of India T.S. Thakur, adjourned the hearing in view of the many pending cases before the court.
The BCCI and all those related to the issue were waiting for the verdict with bated breath and would be relieved to get additional time to make a stronger case for themselves.
In its last hearing on October 21 this year, the Supreme Court had asked the Lodha Committee to appoint an independent auditor to scrutinise the grant of contracts by the BCCI, the world's richest cricket body.
Last month the Lodha committee, appointed by the Supreme Court to suggest reforms in the running of the BCCI, recommended the name of former Union Home Secretary G.K. Pillai for the job.
The Lodha Committee had recommended a set of administrative reforms in the BCCI earlier this year which the cricket board has said it cannot implement in toto.
The Supreme Court had given the board until December 3 to implement the reforms suggested by the Lodha panel. These reforms were made binding on the BCCI in a Supreme Court order on July 18 this year.
The appointment of auditors is significant as the multi-million dollar Indian Premier League (IPL) media rights are to be awarded for the next 10 years, starting 2018. Sony Pictures Networks Private Limited holds the current IPL media rights till 2017, which it won with a whopping USD 1.6 billion bid.
Promoted
The Supreme Court and Justice Lodha have been extremely upset with the manner in which the BCCI has approached the entire issue. While some opposition was anticipated, the manner in which BCCI president Anurag Thakur and various state associations dug in their heels, effectively refusing to accede any of the court's demands, caused the apex court to react very angrily.
The issue was also complicated by the by the state associations of Hyderabad, Vidarbha and Tripura accepting the recommendations, raising the question as to why the other associations were not following suit.
Topics mentioned in this article