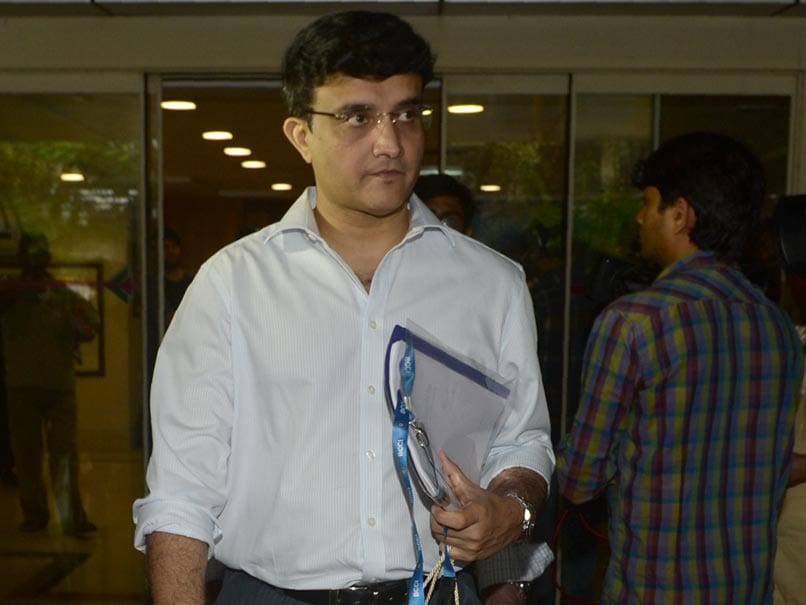 Sourav Ganguly backed Virat Kohli's demand of a pay hike.
© AFP
Former India captain Sourav Ganguly on Thursday supported the pay hike demand made by the Indian captain Virat Kohli and former captain MS Dhoni and said that the players deserve to get a share of the BCCI's ever-increasing revenues. The Supreme Court-appointed Committee of Administrators (CoA), after a meeting with a Kohli-led three-member group, which represented the men's senior team management, accepted the pay hike demand made by the senior cricket team and also took their inputs on the issue of cramped scheduling. Kohli and Dhoni, along with national coach Ravi Shastri, met COA chief Vinod Rai, Diana Edulji and BCCI CEO Rahul Johri.
"Absolutely, players should get money, why not? The board makes so much money, the players should also get it. When Virat Kohli plays, the entire country watches him," Ganguly said.
The former left-handed batsman also said that the players should be looked after well by the cricket authorities as their careers are short.
"Players should be very well looked after because the (career) span is only 15 years. Not many (players) play for 15 (years), very few play for 20 (years). So, I am a big supporter of that (pay hike)," Ganguly said.
"The BCCI does that. If you look at the way the players are looked after these days, it's phenomenal. I have actually seen the entire circle. When I played in 1991, for the entire trip in Australia, I got paid Rs 30,000, and when I finished in 2013, I could see the drastic change. It's in every profession," he added.
Kohli and Dhoni met CoA chief Vinod Rai, Diana Edulji and BCCI CEO Rahul Johri in New Delhi.
The Indian cricketers' central contracts saw more than two-fold rise during their last hike with top players in Grade A allotted Rs. 2 crore annually. Earlier, they were drawing Rs. 1 crore.
Meanwhile, Ganguly said if skipper Kohli is keen to sort out the FTP issue with the board, it would be done. Kohli recently complained of lack of time to prepare for the upcoming tour of South Africa for which the team is scheduled to leave on December 27, just a couple of days after winding up the ongoing home series against Sri Lanka.
"Virat is the captain, if he sorts the issue out, it will get done. I don't see much problem there. Before going on tours, I think they should clear it out. It isn't difficult to sit down and talk about this and clear things," Ganguly, the president of Cricket Association of Bengal, said.
"All the players are playing well. They are all hitting centuries. Virat is in top form, so it's okay, let them play," he added.
Kohli had stressed on the necessity to space out two successive series, as he felt that the team needed to do its preparation differently for a bigger series such as the upcoming one against South Africa in South Africa.
(With PTI inputs)