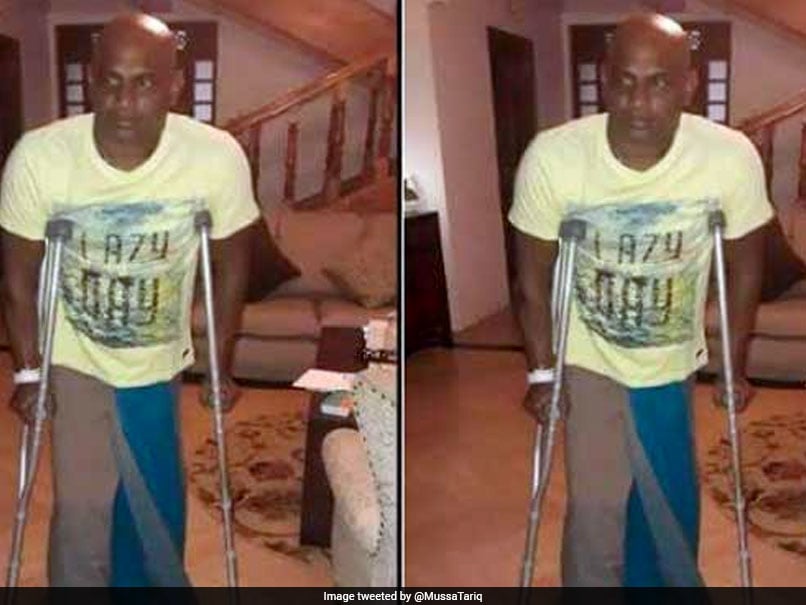 This picture of Sanath Jayasuriya was doing the rounds on social media
© Twitter
Sanath Jayasuriya, one of cricket's most dangerous batsman, is currently suffering from a severe knee injury and is walking with the help of crutches, according to reports. Pictures of the former Sri Lankan batsman walking with the help of crutches have gone viral on social media with fans from across the world expressing their concern for the 48-year-old. Jayasuriya, known for his aggressive batting and disciplined left-arm spin, is reportedly set to undergo surgery on his knee in Melbourne and will remain under observation for about a month.
COLOMBO Former Sri Lanka captain Sanath Jayasuriya is suffering from a knee injury and is even unable to walk without crutches. love for Jayasuriyathe best pic.twitter.com/IIdvDVtlXS

—(@MussaTariq) January 4, 2018
'Matara Marauder', as he was fondly known in his hey-days, played 110 Test matches and 445 ODIs, scoring 6,973 and 13,430 runs, respectively. He has also claimed 98 Test wickets and 323 ODI wickets during his illustrious career, where he won the 1996 World Cup with Sri Lanka.
Jayasuriya was also the captain of the Sri Lankan team from 1999 to 2003, having succeeded Arjuna Ranatunga. The journey came to an end with Sri Lanka's exit in the semi-finals from the 2003 World Cup, hosted by South Africa.
Incidentally, he made his ODI debut in 1989 against Australia in the same city he will be visiting for his surgery. 
His Test debut came two years later. The all-rounder, having retired from international cricket in 2011, was the chief selector of the Sri Lankan national team. But following the retirement of some big name players, juxtaposed with a poor run of games angered the fans, prompting Jayasuriya to resign from his post in September 2017.
The southpaw also had a stint in the IPL. He played alongside the likes of Sachin Tendulkar and Shaun Pollock with the Mumbai Indians and also has a century to his name against the Chennai Super Kings in the inaugural edition of the tournament.