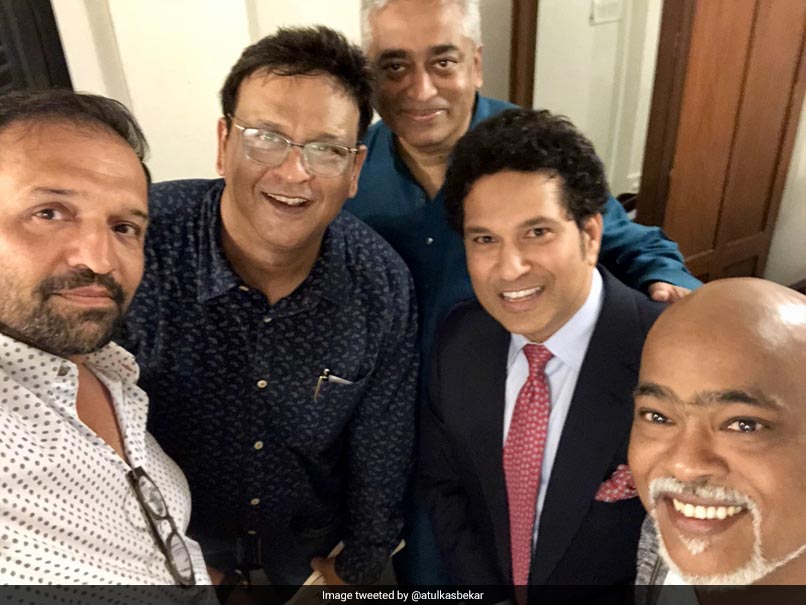 Sachin Tendulkar and Vinod Kambli met at a book launch in Mumbai.
© Twitter
Cricket legend Sachin Tendulkar and Vinod Kambli's story is part of Indian cricket folklore. The duo grabbed headlines when they stitched together a 664-run stand during a school match in 1988. The two Mumbai stars rose through junior cricket ranks and made it to the Indian team. While Tendulkar took giant strides in the cricketing world, Kambli failed to maintain his form and consistency. Their contrasting fortunes on the field played a role in hampering their equation off it. Eight years ago, Kambli criticised Tendulkar on a TV show, claiming the latter did not help him during the a tumultuous phase of his life. As a result, Kambli was neither invited to Tendulkar's farewell Test nor found a mention in he latter's autobiography. In a sense, that signaled the end of their famed friendship.
Tendulkar and Kambli were spotted together at a recent book launch in Mumbai.
Backstage at the launch of @sardesairajdeep book wt the author, the master @sachin_rt @vinodkambli349 n @shishhattangadi
?????????? pic.twitter.com/u5wFoC6hbJ

— atul kasbekar (@atulkasbekar) October 23, 2017
 'Master Blaster, I love you', tweeted Kambli.
Dear Atul it was great meeting you,shishir and @sardesairajdeep too.@sachin_rt .Master Blaster I love You?? https://t.co/c1eDC3Sq55

— VINOD KAMBLI (@vinodkambli349) October 23, 2017
The former left-hander informed his fans and followers that it was indeed their first-ever selfie. 
To all my dearest friends.This is mine and Master Blaster's first ever Selfie Taken???? pic.twitter.com/Ji3frNfyOr

— VINOD KAMBLI (@vinodkambli349) October 24, 2017
Kambli was visibly elated after having met his childhood friend. 
Woh kwaboh ke din woh kitaboh ke din sawwalo ki ratein jawaabo ke din yehi saath khele huehey hum jawan.Salamat rahey Dostana Hamara?????? pic.twitter.com/IF6XYEJKuK

— VINOD KAMBLI (@vinodkambli349) October 24, 2017
Mumbai and Indian cricket fans were thrilled with the news of their reunion.
TWO BAAHUBALIS ...KNOWN FOR CHILDHOOD FRIENDS AND CRICKETERS...KAMBLI& SACHIN THEY R REAL STARS OH THE FIELD&OFF THE FIELD......

— anumala kishan (@AnumlaK) October 24, 2017
Well done !! , Meeting each other could be rare , Friendship is for ever ,

— Michael Tawder (@MichaelTawder) October 24, 2017
Thrilled to see this Sir. U n Sachin paaji - Jai aur Veeru ki tarah hai. Yeh dosti hum nahi todenge???? stay frenz for ever ????

— ROHAN R SHANBHAG (@rony619619) October 24, 2017
Started following when gr8 SMG call of the day and then you both played outstanding cricket.glimpses of your class in 94 vs Eng was excelent

— RGT (@Raghvendra241) October 24, 2017
Tendulkar made some really interesting points about India captain Virat Kohli at the event.
"His (Kohli's) attitude hasn't changed since he got into the team. I noticed that spark in him which many guys were not fond of and there were many guys who were criticising him for that," Tendulkar said.
"And today that has become the strength of the Indian team. He hasn't changed much but people around him have changed. His attitude has changed only because of his performances and it is extremely crucial for a player to have that freedom to express himself," the legendary batsman added.