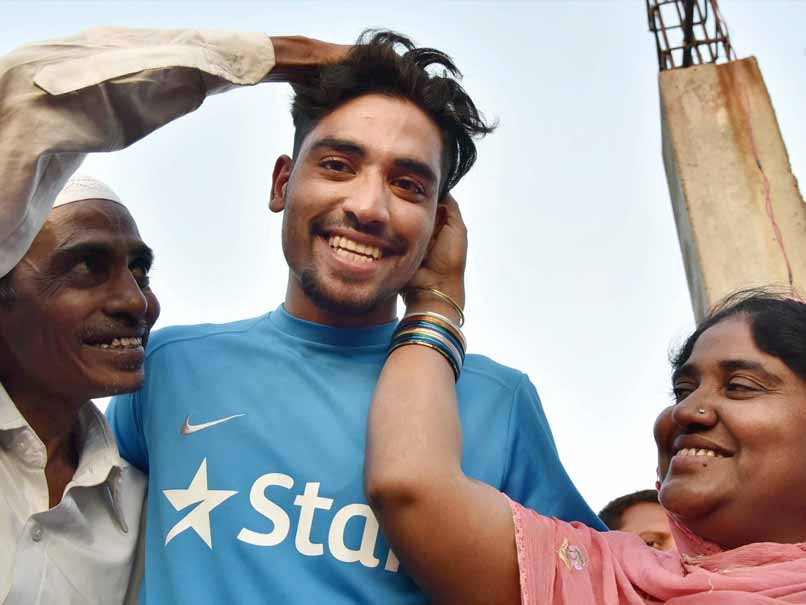 Mohammed Siraj was included in India's T20 squad for series against New Zealand
© PTI
Rookie Hyderabad pacer Mohammed Siraj was rewarded for his good show for India A during a recent tour of South Africa and matches against New Zealand. Siraj was picked for the T20I series against New Zealand while prolific Mumbai batsman Shreyas Iyer was also included in the squad. Iyer has been a consistent performer in the past one year or so, playing for Mumbai and India A and also had an impressive Indian Premier League (IPL) in 2016, playing for Delhi Daredevils. He scored a double hundred earlier this year in a warm-up game against Australia along with a match-winning hundred in the final against South Africa A in the summit clash of an away tri-series.
Siraj and Iyer were the two new faces in the Indian T20 squad announced on Monday for the three-match series against New Zealand starting November 1. Despite speculation, skipper Virat Kohli has decided against taking rest from the New Zealand leg and the first two Tests against Sri Lanka, starting November 16. The first two Tests against Sri Lanka are to be held in Kolkata and Nagpur. However, chairman of selectors MSK Prasad indicated that a "rotation policy will be applicable" for the captain as well.
It is expected that Kohli will be rested for the final Test and the limited-overs series against Sri Lanka, which is slated in December as he would be required fresh and re-energised before the tough tour of South Africa.
"With regards to Virat Kohli, there were some speculations that he is going to be rested for the whole of Sri Lankan series, it is not right. As far as the Test series is concerned, he is going to play and at some point of time, the rotation policy that we are following will apply to the captain," Prasad made it clear during a media conference. Prasad said Kohli's workload is being monitored.
"We are also monitoring his workload. He has been playing continuously right from IPL till today, we need to give him a break which we will consider after the Test series," he added.
"Shreyas Iyer has been prolific in all forms of the game, be it Tests, ODIs or T20s or IPL -- name anything, he is performing. If we pick a player, we will give him an extended run and we will continue with him for some point and nurture him and see that he goes on to become successful. "With Siraj, he is doing well and has been duly rewarded," said Prasad.
There are no surprises in the Test squad with Abhinav Mukund making way for a fit-again first-choice opener Murali Vijay. Vijay did not take part in the last Test series against Sri Lanka due to hand injury and some other fitness related issues.
Predictably, Ravichandran Ashwin and Ravindra Jadeja made a comeback in the longer version with Kuldeep Yadav being the third specialist spinner.
Senior speedsters Umesh Yadav, Mohammed Shami and Ishant Sharma are back in the squad for the five-day format along with Test specialists Cheteshwar Pujara and Wriddhiman Saha.
Ashish Nehra, who will retire after the first T20 game on November 1, has been picked for only that game scheduled in his home ground of Delhi. 
"Whether he (Nehra) is going to play or not, is clearly the decision of the team management. There are no assurances from our side (selectors), whether he is going to play or not. It will purely be decided by the team management." However, Prasad made it clear that there has been clear communication with Nehra with regards to how they are looking at the future.
"There are lot of apprehensions going on about Ashish Nehra. I will make it very clear and candid -- we have clearly communicated to the player, that is Ashish Nehra and the team management, that we are only looking at him till the New Zealand series," he said.
"If you see the pattern with which we have selected India A players, the same bowlers have been continuing for the past one and half years in all the A tours. That means they are very much in line (for selection), and they have really done well in South Africa (A tour) and also at home against New Zealand."
Prasad said that Nehra has been told about selectors' logic.
Squad for T20: Virat Kohli (captain), Rohit Sharma, Dhawan, KL Rahul, Manish Pandey, Shreyas Iyer, Dinesh Karthik, MS Dhoni (wk), Hardik Pandya, Axar Patel, Yuzvendra Chahal, Kuldeep Yadav, Bhuvneshwar Kumar, Jasprit Bumrah, Mohammed Siraj, Ashish Nehra (only 1 game)
Test Squad (2 matches): Virat Kohli (captain), KL Rahul, Murali Vijay, Shikhar Dhawan, Cheteshwar Pujara, Ajinkya Rahane, Rohit Sharma, Wriddhiman Saha, Ravichandra Ashwin, Ravindra Jadeja, Kuldeep Yadav, Hardik Pandya, Mohamed Shami, Unmesh Yadav, Bhuvneshwar Kumar, Ishant Sharma.
(With PTI Inputs)