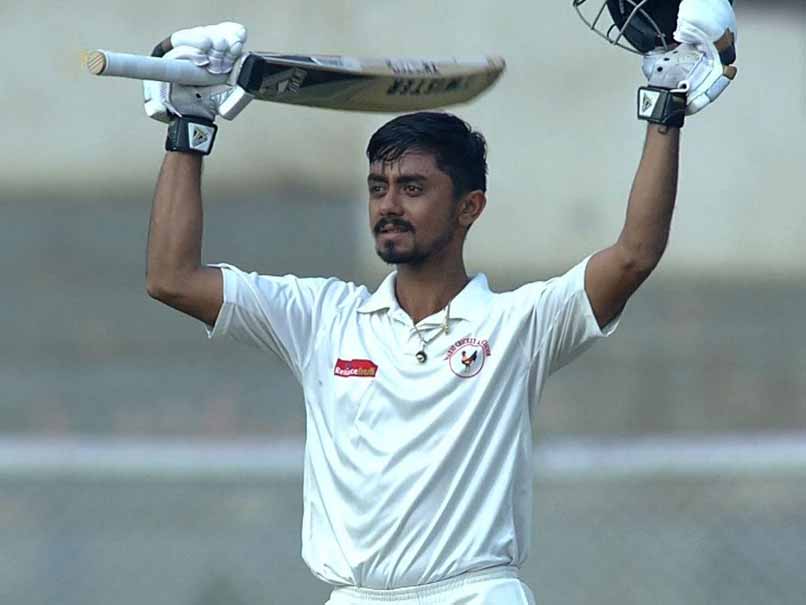 Gujarat was on top despite the late assault by the Rest of India in Irani Cup
© BCCI
Riding on Shahbaz Nadeem's four wickets, the Rest of India on Sunday came back well after conceding a 132-run first innings lead to Gujarat, but the newly crowned champions still maintained the upper hand at the end of the third day of Irani Cup match in Mumbai. After scoring 358 runs in the first innings and earning a lead of 132 runs, Gujarat were 227/8 at the end of day's play making their overall lead of 389 runs now with two wickets still in hand.The unbeaten Gujarat batsmen at the crease were first innings century-maker Chirag Gandhi (55), after a stay of 142 minutes in which he struck seven fours, and no. ten batsman Hardik Patel (0), after a stay of 23 minutes.
Prolific opener Priyank Panchal led the way with a patient 73 in 212 minutes for Gujarat after the early fall of his partner Samit Gohil to Pankaj Singh.
The twin dismissals of Panchal, who faced 135 balls and hit nine fours, to Siddharth Kaul, and captain Parthiv Patel for 32, unfortunate to be given out caught off the pads by umpire Virendra Sharma prompting the batsman to keep glancing behind on his way back, helped Rest keep things tight.
These two batsmen put on 85 runs for the third wicket in quick time before departing in close succession. Gandhi then took over the senior's role to keep the innings afloat with the lower order for company.
He followed up his first innings 169 with his second innings half century and had faced 96 balls without being dismissed.
Hyderabad speedster Mohammed Siraj, who was called up as a late replacement for the injured Shardul Thakur, worked up appreciable pace to pick up two wickets, including that of Manpreet Juneja who was fed short balls and then a wide, fuller one that he reached out for and edged behind.
Seasoned Nadeem gave a good account of himself by varying his pace and flight, besides using the arm ball well to pick up four scalps, those of Parthiv, Karan Patel and Mohit Thadani, who too was not happy with the decision of umpire Sharma to declare him out caught at slip to a full length ball, and Gaja.
First innings bowling heroes Pankaj Singh and Kaul got a wicket each although the former bowled quite well and was not fortunate enough to snare more.
The Brabourne track looked good for batting after three days with pace bowlers dominating the show and hardly any bowlers' foot marks visible for the spinners to lick their fingers in anticipation, although there was appreciable bounce on offer.
But a target in excess of 350, which is what Rest would be chasing to win the game, still looked ominous against the Gujarat medium pace attack led by Gaja.
When play commenced this morning, Gujarat needed to dismiss the last Rest first innings batsman after they resumed at 206 for 9.
It required 14 minutes for the task to be accomplished with Siraj being the man to fall for a breezy 26 to give Gaja a deserving fourth wicket for his efforts. Pankaj Singh remained unbeaten on 9.
Brief scores: Gujarat 358 and 227 for 8 (P Panchal 73, C Gandhi 55 not out, H Patel 0 not out; Shahbaz Nadeem 4 for 53, M Siraj 2 for 39) v Rest of India 226 (A Herwadkar 48, C Pujara 86; C Gaja 4 for 60, H Patel 13 for 79).
(With inputs from PTI)