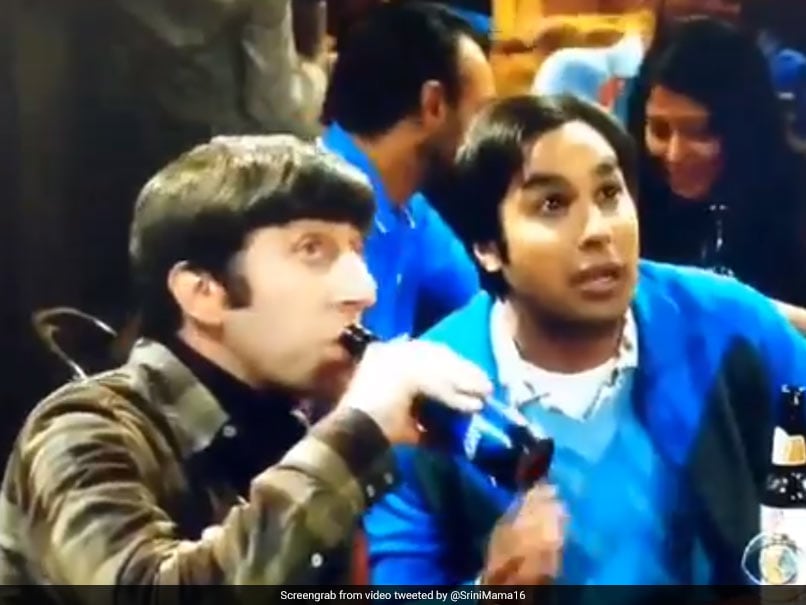 The Big Bang Theory is extremely popular in India.
© Twitter
A recent episode of the very popular American sitcom 'The Big Bang Theory' left Indian cricket fans surprised after names of star players Ravichandran Ashwin, Hardik Pandya and Bhuvneshwar Kumar were mentioned during the 11th season. The show, which is based on the lives of four scientists with one of them being Rajesh Koothrappali, played by Kunal Nayyar, has a huge fan following in India. In one of the scenes, Rajesh and 'Howard Wolowitz', played by Simon Helberg, are at the bar where a cricket match is being screened.
"I don't get how you can enjoy cricket, it makes no sense!" Wolowitz tells Rajesh.
"That's Ravichandran Ashwin, he is amazing. He makes Hardik Pandya look like Bhuvneshwar Kumar," replies Rajesh.
"Wooah, wooah, wooah! Save syllables for the rest of us," says Wolowitz.
Seriously @kunalnayyar you let them write "@ashwinravi99 Ravichandran Ashwin makes @hardikpandya7 look like @BhuviOfficial Bhuvneshwar Kumar"? Did you even watch the India New Zealand series? https://t.co/sv0SWCf3oM #BigBangTheory #Cricket

— Sriram Venkitachalam (@SriramVenkit) November 10, 2017
The joke on the cricketers, however, left the Indian fans rather unimpressed.
Yeah! Although I didn't understand what Raj meant by "Ashwin makes Hardin Pandya look like Bhuvaneshwar Kumar." Doesn't make sense to me.

— S R (@SharanyaR1999) November 12, 2017
That statement, however, makes no sense. :)

But congratulations @ashwinravi99. You are now a star in USA.

— ????? (@iyerakshay) November 10, 2017
Raj doesn't make sense here but yay for ash!
Just for the sake of setting up the syllable joke?

— koushik sridar (@koushikmacho) November 10, 2017
Ashwin has been out of India's limited-overs cricket team after the emergence of Yuzvendra Chahal and Kuldeep Yadav. The off-spinner will make a return to the Test side as India take on Sri Lanka from November 16 onwards.
On the other hand, Bhuvneshwar and Pandya have been in top form in the recently concluded series. The two are now widely regarded as India's most improved cricketers.