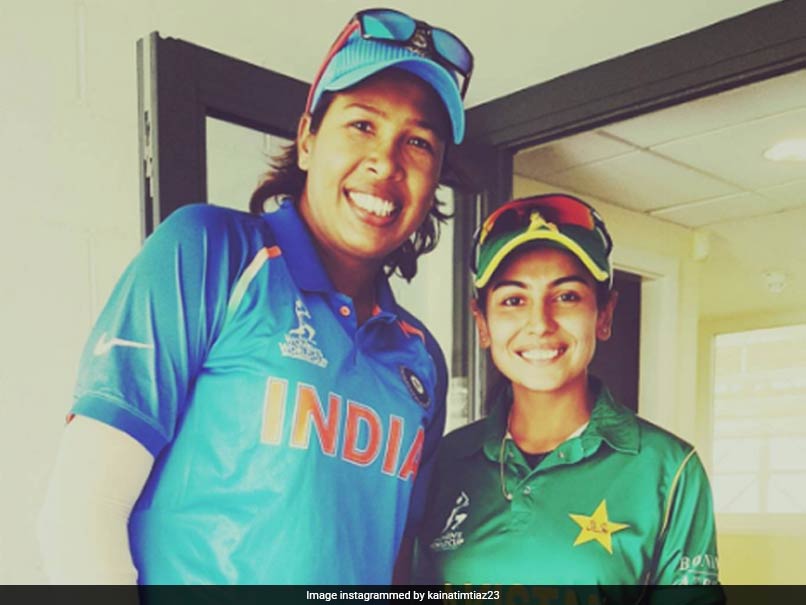 Kainat Imtiaz said she started playing cricket after being inspired by Jhulan Goswami.
© Instagram
When it comes to sporting ties between India and Pakistan, male cricketers tend be under the spotlight on most occasions. The bond of friendship between India and Pakistan players is often a topic of discussion when the two teams clash on a cricket. After India's crushing loss to Pakistan, a video of Yuvraj Singh and Virat Kohli sharing a laugh with Shoaib Malik perfectly summed the relations between the players of the two countries. However, a heartwarming post shared by Pakistan pacer Kainat Imtiaz on Instagram has now helped shift some of that focus on the women cricketers of both nations. Kainat, who met Jhulan during India's match against Pakistan in the ongoing World Cup, shared a story of how the Indian cricketer inspired her to take up the sport.
"Let me share a story with you all. In 2005 i saw the Indian team for the 1st time as the Asia cup was held in Pakistan. I was the ball picker during the tornament... I saw @jhulangoswami. The fastest bowler of that time. I was so impressed that i chose cricket as a career. Specificly fast bowling. Its a proud moment for me as after 12 years today in 2017 i am playing this ODI World Cup with one of my inspirations and getting more inspired.......," Kainat wrote.