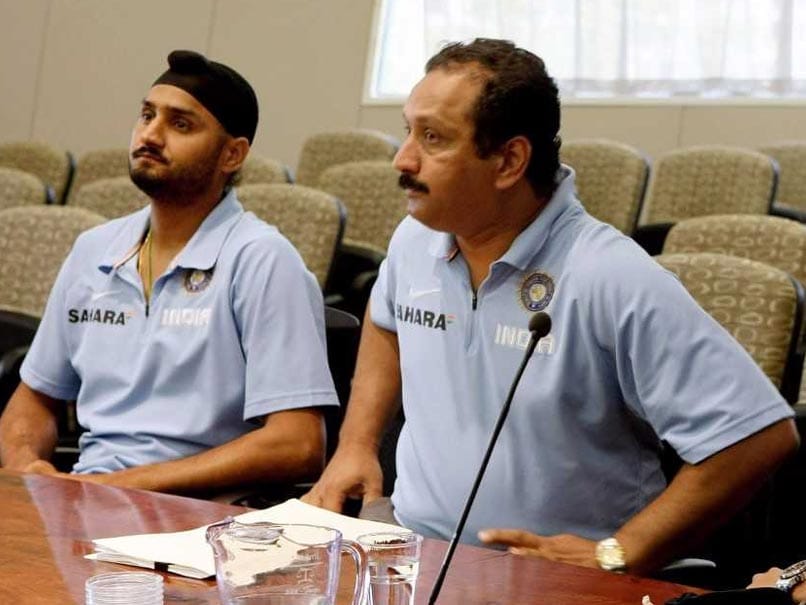 MV Sridhar was assistant manager during the 'Monkeygate' controversy in Australia, involving Harbhajan.
© AFP
MV Sridhar, who recently resigned from his post as BCCI General Manager, died on Monday. Sridhar, 51, suffered a massive cardiac arrest at his Hyderabad residence and was declared dead upon arrival at the hospital. For nearly four years till last month, Sridhar was in charge of BCCI's cricket operations. According to reports, Sridhar was getting ready to have lunch when he suffered a heart attack. Sridhar, who captained the Hyderabad in the 1990s, has 21 first-class centuries to his name, including a triple-century. He was credited with being one of the most influential batsman in a Hyderabad side that was without Mohammed Azharuddin, who was away on national duty, in the 90s
Sridhar, a prolific right-hander, played 97 first-class matches for Hyderabad and South Zone, scoring 6,701 runs at an average of 48.91. His highest individual score was 366 -- the third highest individual score in the Ranji Trophy.
Deeply saddened to hear of the passing of Doc MV Sridhar at the tender age of 51. A lovely human being. Thoughts with Doc's family.

— Alan Wilkins (@alanwilkins22) October 30, 2017
I am deeply distressed to hear of the passing of Doc MV Sridhar. Bade bhai, life mein to abhi bhot runan banaana that aapku.....

— Harsha Bhogle (@bhogleharsha) October 30, 2017
Extremely extremely sad at the passing of a great friend and colleague Dr MV Sridhar. May his soul rest in peace @BCCI

— Rahul Johri (@RJohri) October 30, 2017
Sridhar took over the role as BCCI general manager in 2013 during the N Srinivasan administration.
His role as an administrative manager in Australia during the infamous 'Monkeygate' involving Harbhajan Singh and Andrew Symonds was acknowledged by many. Sridhar was there throughout the hearing and was the link between the team and the board.
In July this year, Sridhar was sent to the West Indies by the Indian Cricket Board following Anil Kumble's resignation, after his much-publicised differences with skipper Virat Kohli.
While Sanjay Bangar handled the coaching, Sridhar was sent to the Caribbean with purpose of keeping the players focused on on-field matters and also get a first-hand account of their requirements.
Sridhar was also the secretary of the Hyderabad CA and it is this stint which was controversial with allegations of his involvement with multiple clubs. There were conflict of interest allegations levelled against him.
(With PTI Inputs)