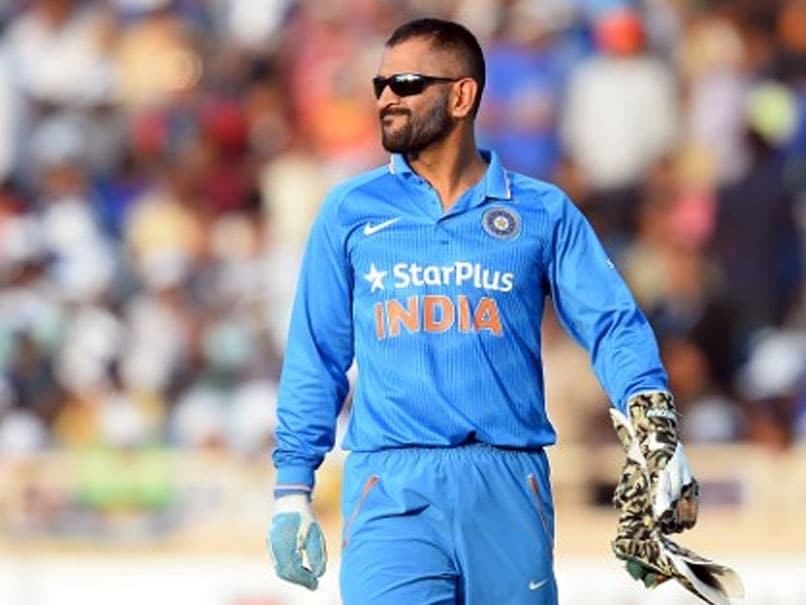 MS Dhoni continues to enjoy tremendous popularity among cricket fans in India.
© AFP
Mahendra Singh Dhoni likes to do most things his way. Be it taking key decisions in cricket matches or dealing with the media, the former India captain has a tendency to keep everyone guessing with his approach and mindset. All athletes today are active on social media, disseminating information in a bid to increase their brand value. Interestingly, Dhoni prefers staying away from not just mainstream media but social media as well. Barring the odd Instagram post, there is not much he likes giving away. Hence fans were rather surprised when the 36-year-old recently liked his first tweet after a gap of three years. Dhoni, who joined Twitter in November 2009, had previously liked a tweet in 2013 and another in 2014.
"Confirmed: Virat Kohli's Team India is going to win the 2019 ICC Cricket World: Match Fixed," read the headline of an article tweeted by @InKhabar. Naturally, Dhoni liking a report of this nature confused several fans.
CONFIRMED: 2019 ?? ?????? ??????? ?????? ?? #ViratKohli ?? ??? ?????? ??? ??? ?? Match Fixed @imVkohli @msdhoni @RaviShastriOfc @BCCI @SGanguly99 @sachin_rt @therealkapildev @azharflicks @ianuragthakur @ShuklaRajiv @PawarSpeaks @GautamGambhir @imjadeja https://t.co/QpyiTCTIQt

— InKhabar (@Inkhabar) December 12, 2017
@InKhabar on Wednesday tweeted to inform their followers about Dhoni having liked their story. 
??????? ???? ???? ?? 9 ??? ?? ?????? ???? ?? ????? ???? ????? ?? ?????? 2019 ?????? ?? ????? ?? ????? ??https://t.co/zbQ0jgBveY @BCCI @msdhoni

— InKhabar (@Inkhabar) December 13, 2017
The story published by the site claims every Indian captain who got married two or three years ahead of the World Cup, has gone on to win it. Hence Kohli like Kapil Dev and Dhoni, was going to bring home the title in 2019, the story said.
Unable to understand what prompted Dhoni's decision to like the tweet, his fans tried to decode the same in their own way.
Sir Dhoni you liked it?

— Anshul Kumar (@kumaranshul2000) December 13, 2017
Yes he liked it. He wants India to win 2019 world cup. That's why he liked.

— himatej (@himatej7) December 13, 2017
@msdhoni you liked the Tweet. Did you miss the words "MATCH FIXED"? #ViratKohli

— Khanjan Chhaya (@KhanjanChhaya) December 13, 2017
India will surely win 2019 World Cup, but the matches are not fixed. If fixing exists, Pakistan wins everything.

Mr. Dhoni's twitter account might be hacked.

— Ravitheja (@Ravisaitheja) December 14, 2017
He should clarify what...That was a nonsense post...he found it intrestng & liked it....!
Even we like shit stuffs..do we need to plst clarifications !....He needs to clarify ntng !

— Ree?? (@rshabh_gtm56) December 13, 2017
What's wrong in liking this tweet? He wants India to win 2019 world cup. That's it.

— himatej (@himatej7) December 13, 2017
Why did dhoni liked this tweet. Something is fishy or he is just being Sarcastic!

— Ronak Chatterjee???? (@SleekWarden) December 13, 2017
Despite retiring from Tests and stepping down from limited-overs cricket captaincy, Dhoni continues to enjoy immense popularity among Indian fans.
A glimpse of Mahi-mania was seen on Wednesday during the 2nd India-Sri Lanka ODI at Mohali when a fan entered the field of play to touch Dhoni's feet.
The man did exactly what he had set out to do, despite Dhoni's best efforts to prevent him from touching his feet. He was then escorted out by a member of the security staff who rushed out to the middle.
This isn't the first time Dhoni has been part of such an incident during a match. There have been two previous occasions in 2017 when the sheer craze for the wicketkeeper-batsman was witnessed.
A fan touched his feet during a warm-up match between India A and England in January, with a repeat at a Vijay Hazare Trophy match later in the year.