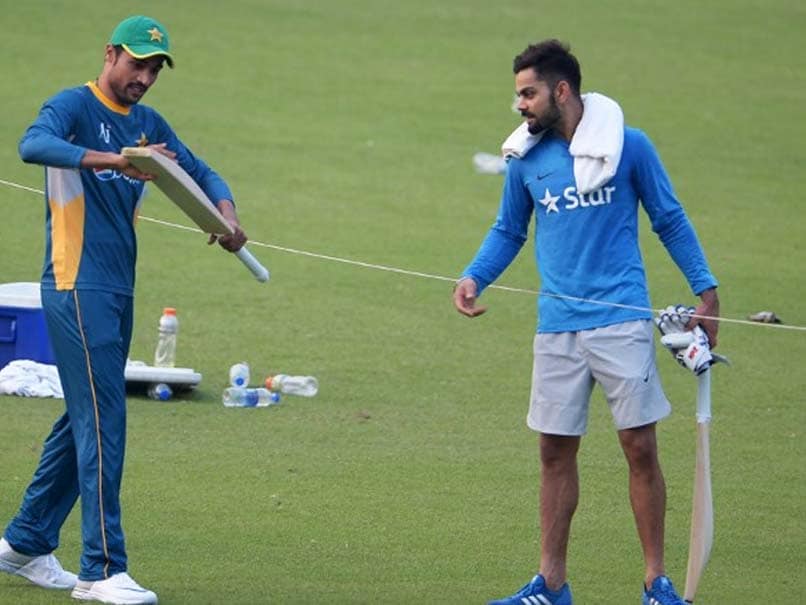 Virat Kohli and Mohammed Amir have often spoken highly about each other.
© AFP
Indian cricket captain Virat Kohli and Pakistan speedster Mohammed Amir have been involved in several memorable encounters on the pitch. The stylish right-hander has come out on top most occasions but the left-arm pacer won their last battle convincingly in the Champions Trophy final. "I am very happy to see Amir back in action. He understood his mistake and has corrected himself and came back. He has always been an outstanding bowler," Virat had said ahead of the Asia Cup last year. The 28-year-old even gifted Amir a bat ahead of the India-Pakistan contest in the World T20 in 2016.
It is no secret that both cricketers respect and admire the craft of one another. An example of this was witnessed when the Pakistani interacted with fans during a chat on Twitter.
Hey guys how about chat session???????

— Mohammad Amir (@iamamirofficial) July 16, 2017
Amir responded to a question on the world's best batsman with Kohli's name.
who is currently the best batsman in the world according to u ?

— Muhammad Hamza Saeed (@masakadza09) July 16, 2017
Amir picked Kohli over England's Joe Root, Australia's Steve Smith and New Zealand's Kane Williamson. 
Root, Williamson, Smith,Kohli who is the best?

— Somnath Pal (@Somnath9216) July 16, 2017
Wicket of Virat Kohli in this Champions trophy or Sachin's wicket in Your First Champions trophy? Which one you enjoyed More?

— N. (@_Screenager) July 16, 2017
Indian fans were not just surprised but
I don't know what Pakistan fans said about India, But I am huge fan of your bowling, Before spot fixing to till the moment

— Virat Kohli (@viratian10) July 17, 2017
Regards from India ?? Stay Blessed and Happy ?

— Sushma ?????? (@CricketLuvInd) July 16, 2017
I'm from india , and aapne dil jit liya ham sabka

— Kishan Jha (@kishanjha3) July 16, 2017
Right amir bhai virat is the best batsman of new generation and You're the best bowler

— Salman Abdi (@SalmanAabdi) July 17, 2017
Does't matter who is best
Bt I am your big fan
As an Indian I would god bless you

— shubham anand raj (@shubhamanandraj) July 17, 2017
Amir (6-2-16-3) tormented the Indian batsmen in the Champions Trophy final with a devastating first spell to help bundle out the Men in Blue for 158 in only 30.3 overs. Rohit Sharma (0), Shikhar Dhawan (21) and Kohli (5) were snuffed out by Amir in a breathtaking display of fast bowling.