Story Progress
Back to home
'Kapil Dev Gave us Confidence to Win 1983 World Cup'
Kapil Dev, who led India in the 1983 World Cup triumph, was praised by his former teammates on Sunday.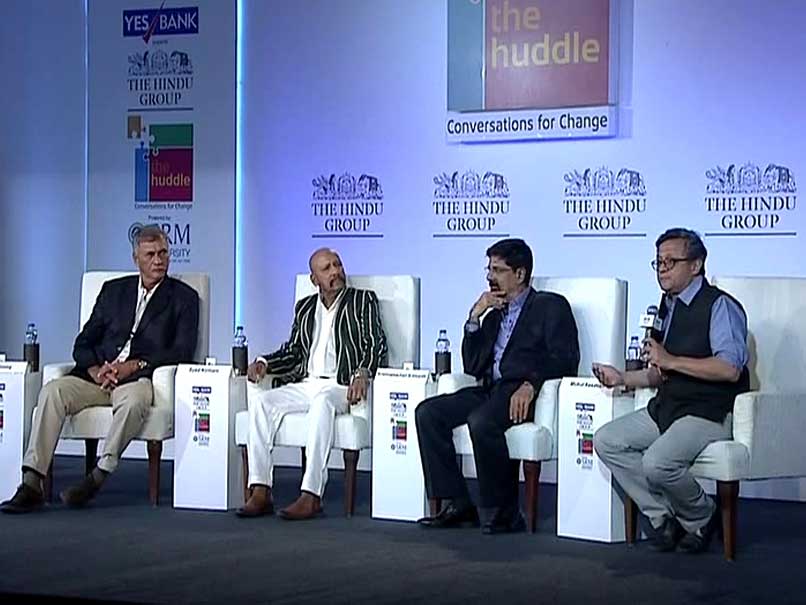 Krishnamachari Srikkanth, Syed Kirmani and Roger Binny praised Kapil Dev.
Highlights
India had won the 1983 World Cup

Kapil Dev was the captain of the Indian team

They defeated the West Indies in the World Cup final
"Kapil Dev gave us the confidence and belief to win the 1983 World Cup", said Krishnamachari Srikkanth, Syed Kirmani and Roger Binny in unison. The trio were part of the squad that won the prestigious quadrennial event 34 years back. They met again at a panel discussion during a summit called The Huddle organised by The Hindu in Bengaluru to relive their iconic victory which started a new phase in the history of Indian cricket.
"Kapil is the guy who gave us the confidence. The speech he gave before the final was very inspiring. Captains say a lot of rubbish but he delivered a great speech," said Srikkanth.
All-rounder Binny, who was the highest wicket-taker of the World Cup with 18 scalps, added: "Kapil was a terrific cricketer. He played a very big role for us in the World Cup and his 175 not out against Zimbabwe at Tunbridge Wells was inspirational. We were 17/5 and from there to win the do-or-die match showed what a great leader he was."
Srikkanth said that it was Kapil who gave the team the conviction to beat a team like West Indies, who at that time were the most dominant outfit in world cricket.
"We had beaten the West Indies in a match before the World Cup. He said that if we can beat them once, we can do it again and his confidence rubbed on to us," said Srikanth, who hit the highest score for India with 38 in the World Cup final.
"Viv Richards was hitting the ball well. I told Binny, who was standing in the covers, the match will be over by tea-time and then came the great catch and it turned the match. The World Cup win changed not just Indian cricket but Indians too. We could walk out and say that we are world champions."
Promoted
Kirmani said Kapil always led from the front and was a man of very few words.
"The turning point in the 1983 World Cup was beating the West Indies in the league stage. We beat them comprehensively and from there we never looked back," concluded Kirmani.
Topics mentioned in this article