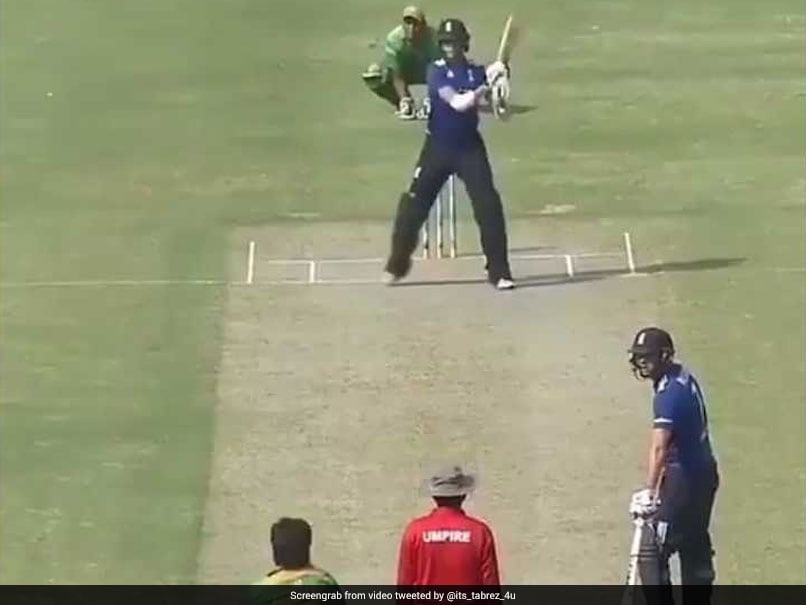 A video was uploaded on Twitter where the batsman was seen playing an unorthodox shot.
© Twitter
Since the advent of the Twenty20 format, the cricketing arena has witnessed numerous unorthodox shots. Former England batsman Kevin Pietersen was the flag-bearer of switch hit, while former Sri Lanka opener Tillakaratne Dilshan started the concept of 'Dilscoop' and batting legend Sachin Tendulkar sent many pacers on a leather hunt with his typical uppercut. But all of that fades into insignificance before what has now emerged on social media.
The batsman did everything he shouldn't -twirled his bat like a sword, shuffled across the stumps to attempt a switch-hit. Eventually, he ended up playing a paddle scoop and sent the ball towards fine-leg for a boundary.
What is that pic.twitter.com/iZ1lk6agGR

— Tabrez Shaikh (@its_tabrez_4u) September 7, 2017
While where the match was played could not be ascertained, the shot did make waves.
Excited fans trolled the batsman and gave this shot a new name - Heliscoop.
Hashtag the name for this shot :-P

For me : #Heliscoop ;-)

Quote

— Tabrez Shaikh (@its_tabrez_4u) September 7, 2017
A fan called the batsman the mixture of MS Dhoni and Zimbabwe's Dougie Marrilier.
This is what happens when the spirits of Dhoni and Douglas Marrilier get into someone at the same time.

— Dhruva (@dhruvabatni) September 8, 2017
Indian cricketer Ravindra Jadeja, who comes from a warrior clan, is known to celebrate his milestones in his trademark moves, twirling his bat like a sword.
But, this batting style was something else altogether.