Story Progress
Back to home
3rd ODI: Javed Miandad Applauds Virat Kohli, Calls Him A Genius
Virat Kohli's technique allows him to score every time, feels Javed Miandad.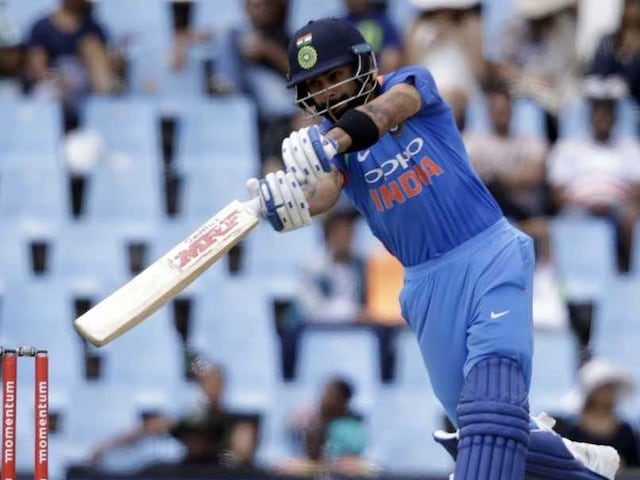 Virat Kohli remained unbeaten on 160 in the third ODI against South Africa.
© AFP
Highlights
Kohli was adjudged as the Man of the match in the 3rd ODI vs South Africa

Kohli's technique allows him to score every time, feels Javed Miandad

India lead South Africa 3-0 in the six-match ODI series
India captain Virat Kohli time and again has proved why he is one of the most celebrated cricketers of the current time. Kohli displayed temperament, skill and immaculate precision in the third One-day International (ODI) against South Africa en route his majestic 160 not out, which helped his team defeat the mighty South Africans by a margin of 124 runs. Following his incredible knock, cricketers worldwide heaped praise on the Indian captain for his match-winning knock and touted him as one of the best in the business. Among all the plaudits, batting great Javed Miandad in an interview with pakpassion.net hailed Kohli for his batting technique which helps him score runs at will.
"To me, the mark of a great batsman, like Kohli is the fact that he can vary his technique by quickly understanding the strengths and weaknesses of the bowlers. Kohli is a genius who is the best batsman in the world," Miandad said.
The former Pakistan captain, who is known for his ability to rescue his team from the jaws of defeat, said that he admires the Indian batsmen for their batting technique, which makes them successful.
"What I really admire about Indian batsmen and the reason why they are so successful, is the fact that their batting technique is correct. In Virat Kohli's case his batting method is what allows him to score runs not just once but almost every time he comes in to bat. If a batsman's technique is bad, he can put some runs on the board once in a while, but he will not be able to do that consistently which is exactly true in Kohli's case," Miandad added.
Topics mentioned in this article