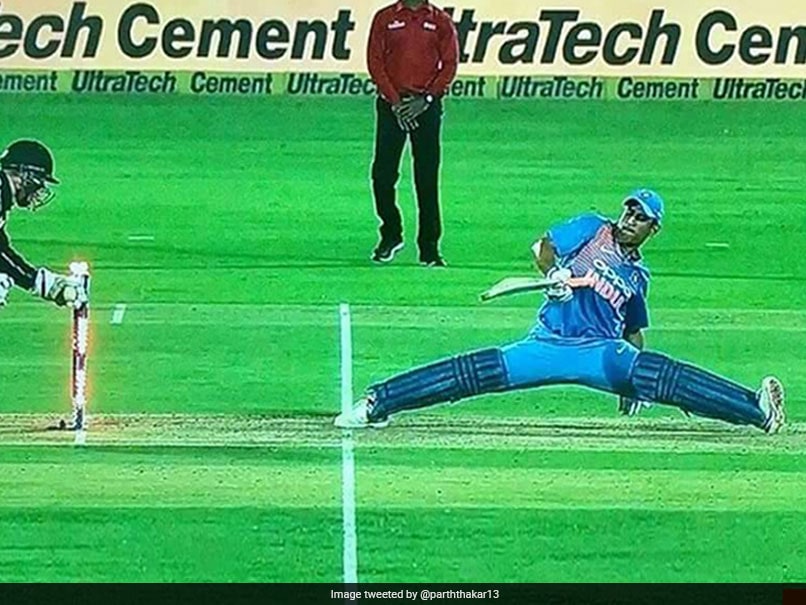 MS Dhoni's showed off his high fitness levels with a perfect split during the 2nd T20I.
© Twitter
MS Dhoni's lightning quick hands behind the stumps are part of cricketing folklore. The former India captain is not just quick but also street smart with the wicketkeeping gloves on. Another aspect of the former India captain's game that is often discussed is his fitness. On Saturday, Dhoni showed why he is termed as one of the fittest members of the Indian cricket team. New Zealand spinner Mitchell Santner fired the ball wide after he spotted Dhoni charging down the track. After failing to make contact with the ball, Dhoni had to get back quickly. In order to accomplish the same, Dhoni pulled off an epic split as wicketkeeper Glenn Phillips dislodged the bails. Television replays showed that Dhoni managed to get his foot back inside the crease before the bails were taken off.
Indian fans were awestruck by Dhoni's fitness levels, with some even comparing him to actor and martial artist Jean-Claude Van Damme.
Even Van Damme would be proud if that split by Dhoni!!! #indvsnz

— Escape Velocity (@FilmOpensOn) November 4, 2017
Damn that split, Dhoni!
??

— Garima Srivastava (@Cricket_Panda) November 4, 2017
Even though Ind lost to kiwis I m overjoyed just cuz of dhoni pulling van damm split.

— ragul (@ragulr25) November 5, 2017
Perfect Split in split of a second , thanks Kung Fu Dhoni for you

— baaki sab theek hai (@baakisabthikhai) November 5, 2017
We lot the match last night but hey, we got to see Dhoni pull out a spectacular split! #indvsnzt20 #IndvNZ

— Dhruv joshi(1712) (@wickedhruv) November 5, 2017
Mahindra Split Dhoni?

— SIPHIWE GABAYI?? (@TheGreatGabayi) November 4, 2017
What a split it was. #Dhoni #IndvNZ

— Rohan E (@Ekbote_R) November 4, 2017
Did you see the Leg Split by Dhoni???

Impressed!

— Naveen Tummala (@OrthoChow) November 4, 2017
But that split save from Dhoni on that stumping! Some other level! Woahhhh

— Janani (@naan_jaan) November 4, 2017
Despite Dhoni's 49-run knock, India failed to get anywhere near the target set by New Zealand. Colin Munro's ton and Trent Boult's four wickets powered the Kiwis to a 40-run win over India in Rajkot to level the three-match T20I series 1-1.
"Eventually, we were not good enough with the bat. When you are chasing 200, all the batsmen need to chip in, or one batsman has to keeping going at a 200 strike-rate. Tried to do my best. MS was very good at the end. But we were left with a very difficult task. It happens to a lot of batsmen, sometimes you are in good form, but you don't get enough balls," Kohli had said after the match.