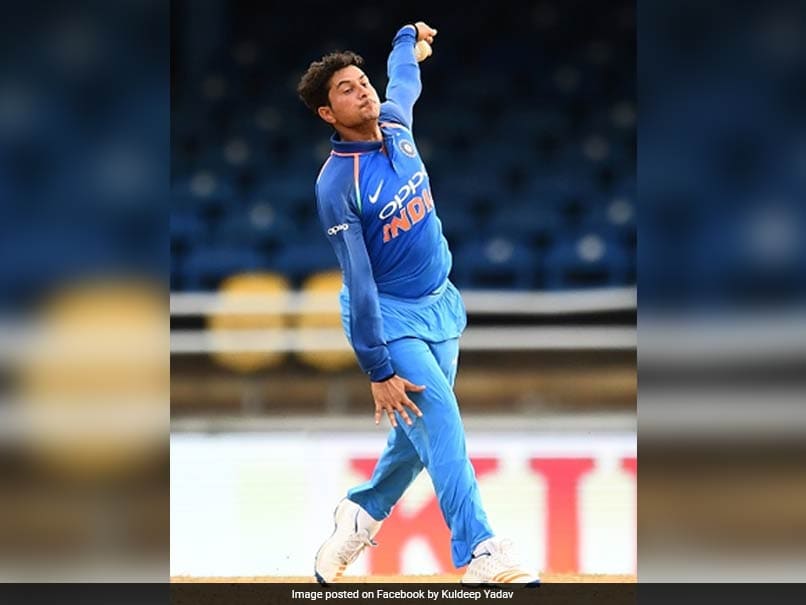 Kuldeep Yadav was seen bowling at the nets with a wet ball.
© Facebook
The Indian bowlers had a torrid time against the New Zealand batsmen in the third and final One-day International at Kanpur as they struggled to defend a substantial total, thanks to the dew which made gripping the ball difficult. India struggled with the ball as the Kiwis found the fence at will, chasing a big total of 338 runs to win the series. India, however held their nerve and won the match by six runs but the dew at the Green Park Stadium did pose a lot of problems to the Indian bowlers. In order to counter that, the hosts are taking measures to make themselves as comfortable as possible with the dew likely to be present in almost all the T20Is that are scheduled to start at 7 pm.
Anticipating that gripping the ball may prove to be a stiff challenge because of dew, chinaman bowler Kuldeep Yadav was seen on Tuesday practising with the wet ball on the eve of the Twenty20 series-opener against New Zealand in New Delhi.
Dew has been prevalent whenever Indian teams play at home from October to January. Any score becomes chaseable under lights during this time of the year as bowlers find it extremely difficult to grip the ball.
During the optional net session in the afternoon, Yadav was seen soaking the white ball in mineral water after every second delivery.
The idea was conceived by bowling coach Bharat Arun, who was seen discussing the strategy with the left-arm wrist spinner. India paceman Bhuvneshwar Kumar had also adopted the same strategy to prepare himself for death bowling in the past.
Kuldeep primarily bowled to Dinesh Karthik at the nets but the batsman was seen negotiating the deliveries easily.
In between, he asked journalists at what time in the evening dew factor sets in.
During the nets session, rookie Shreyas Iyer was hit on the right forearm by a throw-down from support staff member Raghavendra.
Iyer looked in pain and did not take any further part in the nets after that.
(With PTI Inputs)