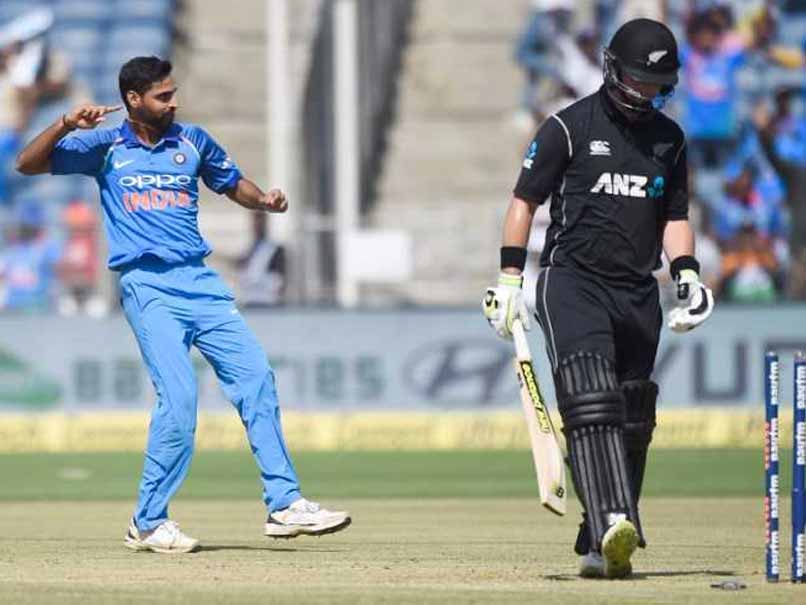 Bhuvneshwar Kumar along with Jasprit Bumrah is doing wonders for the Indian side.
© AFP
In-form India pacer Bhuvneshwar Kumar on Saturday said that not losing the ability to swing the ball despite adding extra pace to his bowling has helped him improve as a bowler. Bhuvneshwar along with Jasprit Bumrah is doing wonders for the Indian side with the new ball in the limited overs cricket for India. Captain Virat Kohli had praised the bowler after the second ODI and had said that he has come of age. However, in recent years, Bhuvneshwar had lost his natural ability to swing with extra pace but the bowler expressed happiness on finding his mojo back.
"As a player, I feel I have grown in the past couple of years. I have improved my pace without losing on the swing. That is something I am really happy about. In batting also I have improved a bit," he said.
Bhuvneshwar further added that India's bowling coach Bharat Arun helped him get his swing back.
"So he shared some fine points that helped me get my swing back. His role in the team is invaluable," said Bhuvneshwar.
Talking about the three-ODI series, which is currently tied 1-1, Bhuvneshwar said the match will be another high-pressure encounter.
"We have not been challenged like this in a while and it is a short series. So there was pressure in the last game that we could lose the series (having lost the first match). But the way we came back shows the character of the team. Tomorrow's match is also about handling pressure. We will try to play like we played the last game," Bhuvneshwar added.
Asked about the approach in a three-match series compared to a longer one, Bhuvneshwar said, "It is a short series but mental approach is the same as any other series. But as I said, we have not been challenged in a while at home, so everyone is looking forward to the challenge."
Bhuvneshwar further remarked that playing against familiar foes like New Zealand can work both ways. Most of the top Kiwi players feature in the IPL including captain Kane Williamson and Trent Boult, who have been Bhuvneshwar's teammates at Sunrisers Hyderabad.
"Last series I played against New Zealand the planning was easy, it is the same for them also. Knowing them well and vice versa makes planning tougher. So it is a positive as well as a negative," he insisted.
(With PTI Inputs)