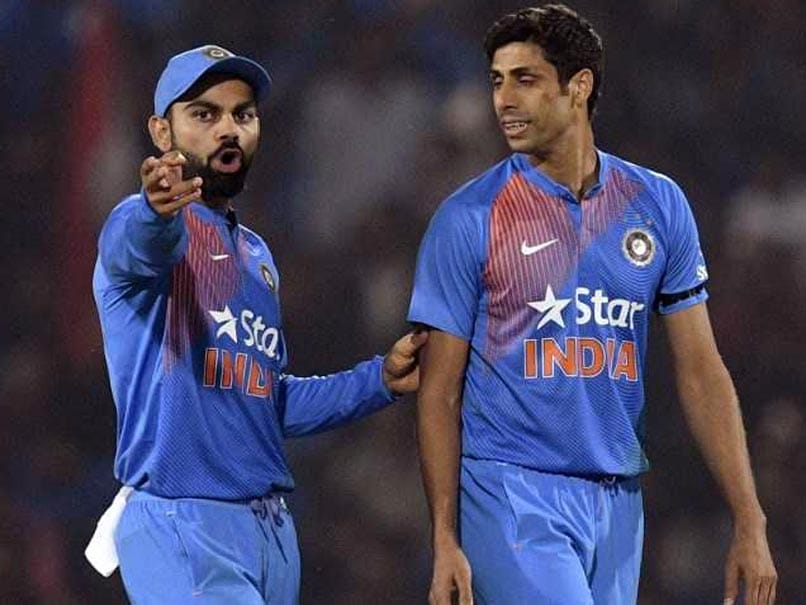 Ashish Nehra is making a comeback after playing the T20I series against England earlier this year.
© AFP
A few eyebrows were raised when 38-year-old Ashish Nehra was named in the India squad for the Twenty20 international series against Australia, starting on Saturday. However, Nehra's skill in the shortest format of the game is invaluable and he has showcased that time and again both for the Men In Blue and also when he is playing in the Indian Premier League (IPL). Nehra is making a comeback after playing the T20I series against England earlier this year. Ahead of the series opener, Jasprit Bumrah was all praise for his pace bowling partner and spoke about the impact the left-arm bowler has on the team.
"He's a very experienced player. I've played some cricket with him. I've played in World Twenty20 with him. It's really good to have him in the side. It's lot of fun. He has loads of experience to share. He's very helpful for youngsters like me," said Bumrah.
"The team's atmosphere becomes good when he comes to the side. It feels great to have him back in the side."
Bumrah said that keep high fitness levels was essential to doing well on the big stage.
"It's not only fast bowlers who need to put in extra effort. Yes they need to do extra sometimes, but in general if you are not fit you won't be able to survive. It's the responsibility of the player to look after his diet and training
"Because of the amount of cricket we have been playing nowadays, everybody has to be fit," said Bumrah.
Bumrah made his name by becoming a death bowling specialist for the Mumbai Indians in the IPL and has improved further after becoming an India regular. Bhuvneshwar Kumar, who use rely on swing initially, has remodeled himself gaining a few yards and also becoming more lethal at the end of the innings.
The Indian duo have struck a brilliant partnership for India with the ball at the death and Bumrah said that there is a lot more to do.
"We just want to improve ourselves every time, we keep asking questions to each other. We keep learning from the senior players on what else we can do and how to improve, how to adapt to different conditions and the wickets. The focus is on training. We don't focus on results. We want to get better every game."
India defeated Australia by six wickets the last time both the teams met in World Twenty20 in March 2016, and prior to that they completed a 3-0 clean sweep Down Under in January.
India may have a 9-4 head to head record but Bumrah said that is the last thing on team's mind.
"We don't think like that. We only focus on the game. Every format requires a little bit of skill level. We want to focus on that and if we do our basics right, everything else is taken care of."
Being a death bowler specialist, Bumrah said his role doesn't change much in the ODIs and T20s.
"One-day and T20s are slightly different. In the situations where I bowl, in the death overs, it's very similar. You're hit over here as well as in ODIs. It's not too much of a difference."
(With PTI Inputs)