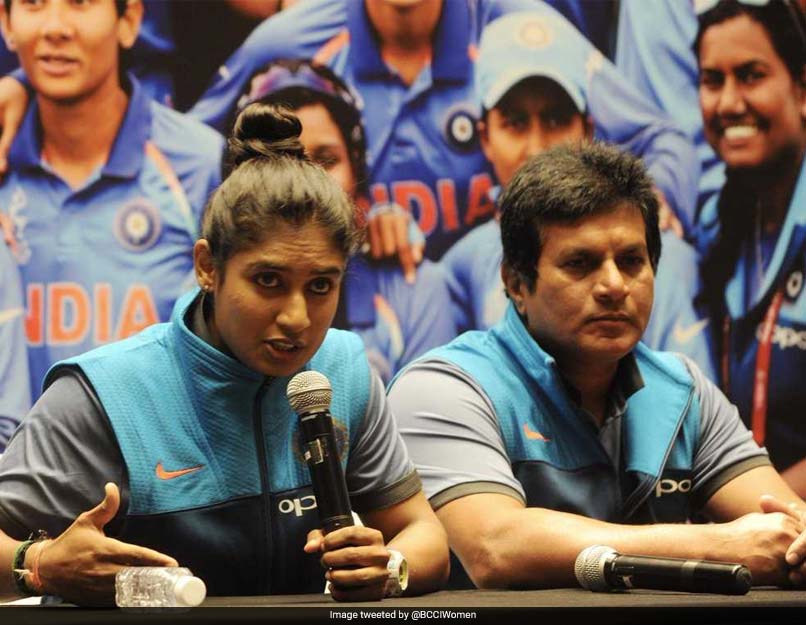 Mithali Raj, in her 18-year career, has played just 10 Tests.
© Twitter
Indian women's cricket team captain Mithali Raj feels that playing more Test matches would help the country produce more world-class players. Mithali was speaking in New Delhi on Thursday during a function where the squad was felicitated by Sports Minister Vijay Goel for its fine performance in the ICC Women's World Cup 2017, held in England. India, till now, have played 36 Tests, won five and lost six and drawn 25. Mithali, in her 18-year career, has played just 10 Tests. India have played just five Tests in the last 10 years.
"Test matches are the ultimate test for cricketers, whether it is your temperament, skill or endurance. However, women's cricket needs promotion and so far it has been done mainly through T20s and ODIs by the respective cricket boards," said Mithali at the ceremony organised by the Board of Control for Cricket in India.
Each squad member was presented with a cheque of Rs 50 lakh by the BCCI during the function.
"As of now, it seems every board wishes to market the sport through T20 and ODIs as they think they are the ideal formats. I feel Test matches should be played as frequently as limited over games because it churns out quality players. If the Indian team wants to play, the other teams should also be ready to play Test matches," Mithali added.
On being hailed for their World Cup show, Mithali said, "I am one of those players who have seen days before the BCCI took over and after that as well. I am fortunate that I continued to play. Today I am seeing this phase in women's cricket, the reception we have got has been overwhelming.
"I clearly remember, despite doing well in 2005 World Cup, we never had this kind of a reception. It is a nice feeling after what we have all gone through, we feel wanted, feel appreciated for the effort we have put in all these years," she added.
Mithali said Indian Railways had played a huge role in giving support to the players through jobs.
"A special mention to the Indian Railways for supporting us and extending jobs to the girls. If it was not for the Railways, many more talented cricketers would have quit the game to focus on getting jobs for financial security," said Mithali, who played her fifth World Cup.
Despite India losing the final from a comfortable position, Mithali said it was a brilliant team effort.
"Not many gave us a chance to reach the semis or final. This World Cup has been very tough.
"What the team has achieved in this World Cup, the seeds were sown in the ODI series against Australia, the West Indies tour, the Quadrangular Series in South Africa, the Qualifiers in Sri Lanka and into the World Cup. The preparation was very good," she said, adding that she will continue playing for another 2-3 years.
(With PTI inputs)