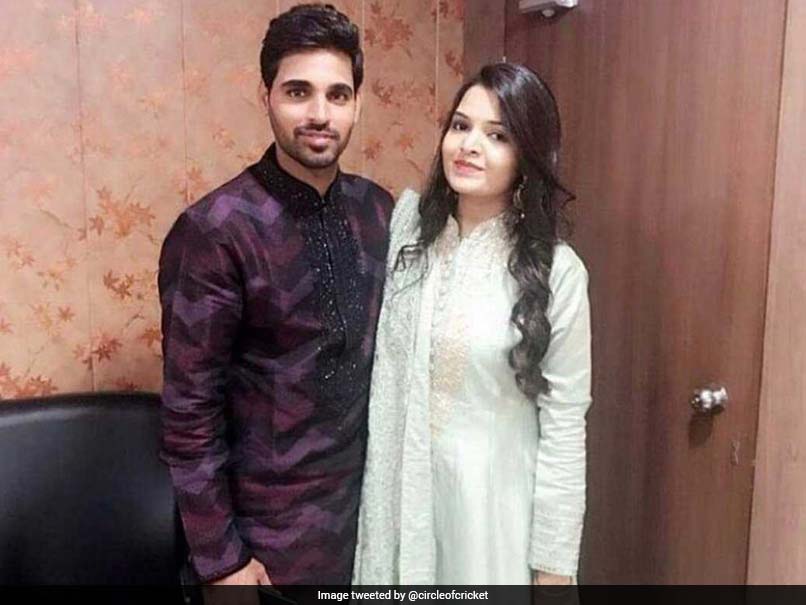 Bhuvneshwar Kumar got engaged with Nupur Nagar in a private ceremony.
© Twitter
Indian pacer Bhuvneshwar Kumar got engaged to his 'better-half' Nupur Nagar on October 4 in a ceremony, which was attended by close family and friends. Speculations were rife that the Indian pacer was dating Telugu and Bengali film actor Anusmriti Sarkar after he had uploaded a cropped image on Instagram few months back. But, the 27-year-old lifted the curtains when he uploaded a full image two days back and captioned it as "Here's the better half of the picture @nupurnagar." According to media reports, the engagement ceremony took place in Greater Noida.
The photo of the engagement was uploaded on Twitter by Circle of Cricket with the caption, "Congratulations to @BhuviOfficial and Nupur Nagar on getting engaged. May God bless you with lots of happiness."
After the ceremony, Bhuvneshwar Kumar took to Twitter and uploaded a photo with the caption, "Rewinding and going back to the happy memories, inspires me to fast forward and dream about the amazing future that lies ahead.."
Rewinding and going back to the happy memories, inspires me to fast forward and dream about the amazing future that lies ahead.. pic.twitter.com/rpCImbxchc

— Bhuvneshwar Kumar (@BhuviOfficial) October 5, 2017
Bhuvneshwar's father, Kiran Pal Singh, in an interview to Times of India, said, "Our families have known each other for a while now, par yeh Bhuvneshwar ki pasand thi (but Nupur was Bhuvneshwar's choice). Ussne humein bataya and we were happy (He told us about her and we were happy). The girl is educated and sweet and the family is very nice too. We are now trying to see when we can have the wedding. Bhuvi is busy with back-to-back series in the coming months but as soon as we find a 10-day window, we will make arrangements."
"As soon as the dates are finalised, we will book a venue here in Meerut. But if logistics don't allow that, we will look for some place in Delhi too. Dekhiye, shaadi koi roz-roz toh hoti nahi (Look, weddings does not happen everyday). This is a special occasion and we want everyone to be there. So we will extend our invitation to all of Bhuvneshwar's teammates from the Indian team. I hope all of them can make it too," Kiran Pal Singh further added.
Bhuvneshwar has been instrumental in India's 4-1 victory in the recently concluded five-match One-Day International (ODI) series against Australia. In the series, he picked up four wickets and scored 53 runs for the Men in Blue.
The right-arm medium bowler is also a part of the Indian team which will play a three-match T20 series against Australia starting October 7 in Ranchi.