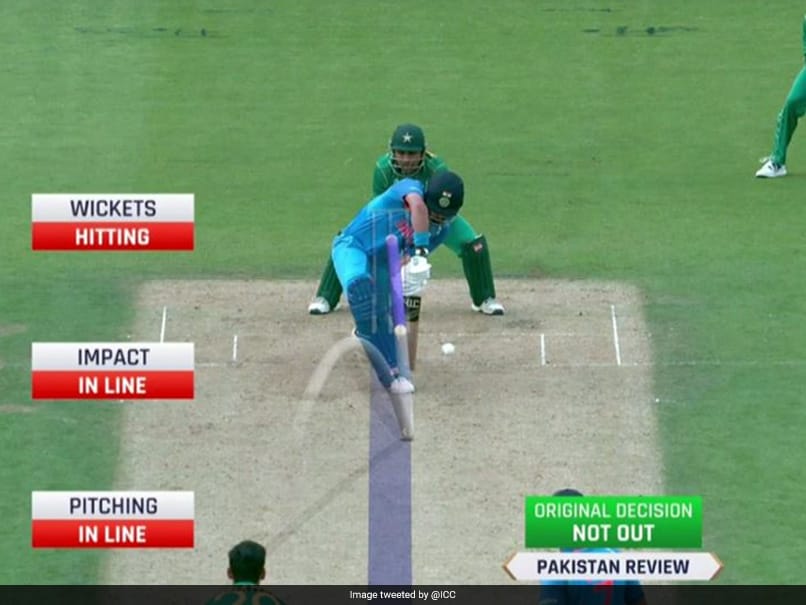 The DRS rule for leg before wicket has also undergone a change.
© Twitter
The International Cricket Council (ICC) in their meeting headed by David Richardson, ICC's Chief Executive Committee, on Saturday, approved a few changes in the rule to the sport of cricket recommended by Cricket Committee, led by former India coach Anil Kumble. The recommendations were reviewed, discussed during the meeting in London after the end of the ICC Champions Trophy 2017. One of the change states that the team will not lose a Decision Review System (DRS) if the leg before wicket (LBW) decision returns as 'umpires call.' The decision also includes the usage of DRS in all T20 Internationals.
However, in Test cricket, the current rule of allowing an addition of DRS review after 80 overs has been scrapped. The minimum standards for review system will include the use of accredited ball tracking and edge detection technology.
Other tweaks in the rules empowers the on-field umpires to send a player off in case of serious incidents of player misconduct, including violence. While other on-field offences will be dealt under ICC Code of Conduct.
Other changes include the restriction on bat dimensions -- thickness of edges and depth of bat.
Another change is that a batsman will be adjudged not out even if his or her bat bounces back up after being grounded behind the crease. The current rule declares the batsman out if the bat is not grounded when the bails are dislodged.
The new playing conditions will come into effect from October 1.