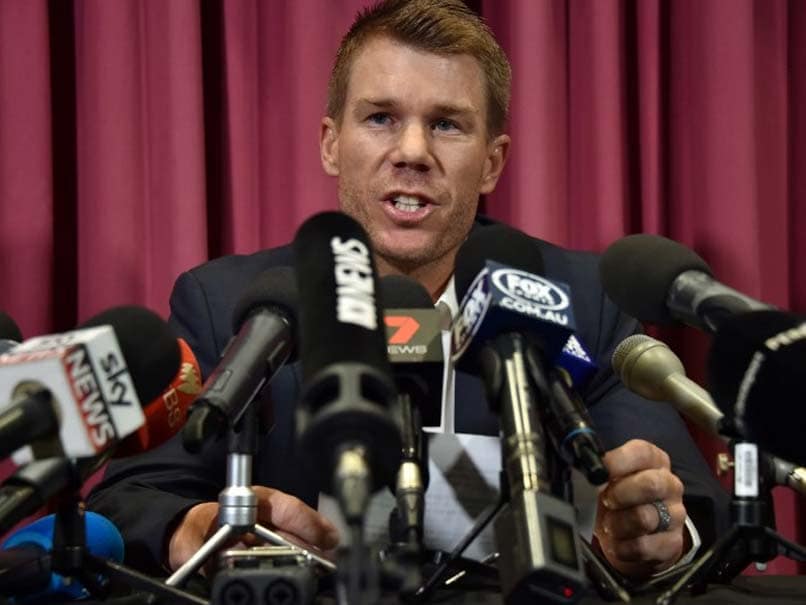 David Warner was also banned from ever holding a leadership role in Australian cricket.
© AFP
Cricket Australia CEO James Sutherland has said that the door is not shut on disgraced opener David Warner to return to the national side after serving the one-year ban. Warner was banned alongside Cameron Bancroft and Steve Smith for his involvement in the ball tampering saga that overshadowed the recent tour to South Africa. While former skipper Smith was charged with knowledge of the plot, Warner was charged with developing it and instructing Bancroft to carry it out. Smith and then vice-captain Warner were banned for 12 months while Bancroft was exiled for nine months. All three held emotional press conferences to apologise, with public sympathy for a contrite Smith and Bancroft.
Warner, who was also banned from ever holding a leadership role again in Australian cricket, admitted he was "resigned to the fact" he may never play for his country again.
But Sutherland said the door remained open.
"I think everyone deserves their chance and their own personal redemption story is very much in their own hands now," he told Melbourne radio station SEN late Tuesday. 
"Each of them have to go about that during the time they're out of the game and prove that they're worthy (and) prove to the Australian selectors that they should want them back. 
"They deserve that opportunity."
Sutherland added that he felt for the players, whose reputations have been trashed.
"I feel forgiveness for all of them. I feel sympathy for them and I want to see them all come back and play their best cricket. I believe they all can," he said. 
"Part of the design within the sanctions was to allow them to stay connected with the game. 
"I also see part of our role is to support them with their state associations and their clubs, to help them stay hungry and come back and play their best cricket."
Cricket Australia on Tuesday appointed an ethics guru to review the sport's culture in the wake of the scandal to ensure there is never a repeat.
It will run in tandem with a separate probe announced last month into player behaviour.
(With AFP Inputs)