Ravichandran Ashwin rocked the New Zealand batting line-up once again, as his seven wickets in the Kiwis' second innings saw the visitors fold for a paltry total of 153, and hand India a 321-run victory in the match and a 3-0 clean sweep. Catch India vs New Zealand highlights here. (SCORECARD | CRICKET NEWS)
17:15 hrs IST: That's it for today. Do join us on Sunday for the live coverage of the first ODI in Dharamsala. Until then, it's goodbye. Cheers!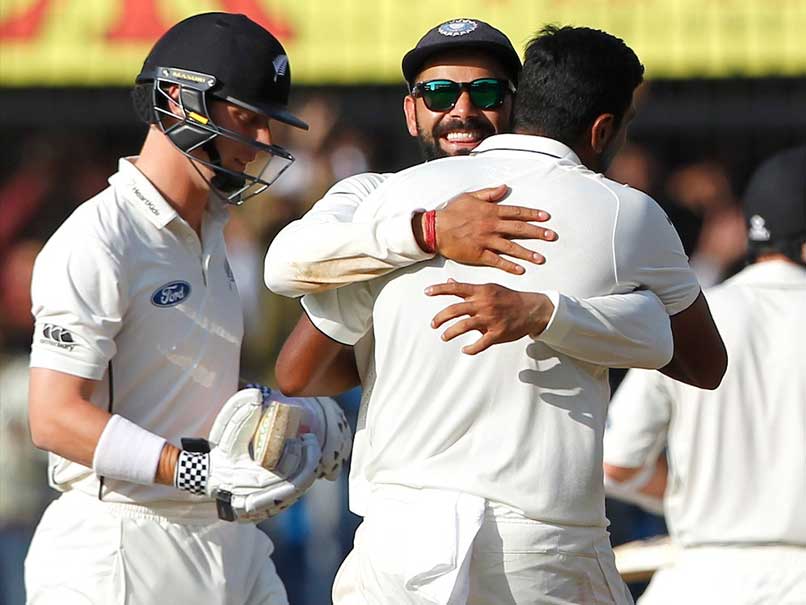 Kohli (after being presented the Test mace): "To be recognised as the best in the traditional form of the game is as good as it gets for any team and stuff that dreams are made of." 
ON TOP OF THE WORLD, AGAIN #Champions @Paytm Test Cricket #INDvNZ #JaiHind pic.twitter.com/71kgN2JONS

— BCCI (@BCCI) October 11, 2016
Virat Kohli (India captain): "Absolutely, couldn't have asked for anything better. The bowlers have responded beautifully every time we've been in pressure. Someone has always put up their hand. And that's the difference, this team is up, we get wickets in bunches, we have that attitude and we do get the results. We made it clear that the bowlers deserve to be in this position and it's time they express themselves. Don't hesitate in playing your shots. If you see Pujara hitting a fast bowler back over his head, it is the best example of expressing yourself. This is a proper team series win. It wasn't just one individual. You can leave Ash aside, he is not to be mentioned in the XI. Jadeja with the bat in the first game, Saha in the second, Rohit with those crucial knocks. We keen his numbers, we discuss his Man of the Series awards after every series. No. 6. No. 7... Credit to him I wish him well." 
Kane Williamson (New Zealand captain): "I suppose in this match, we can look at a number of areas we didn't do too well. India from the start outplayed us, getting such a big total. And we knew it would be a tough task batting on this pitch last. They're No. 1 in the world, a fantastic effort. The beauty of it is that we have a young side, and being exposed against the best bowling attack in the world is that we can learn. It's a shame we haven't done so quickly enough. It's tough to swallow, but the opportunity to learn playing against some of the best bowlers in the world in these conditions is a big thing." 
Ravichandran Ashwin (Man of the Match and Man of the Series): "It was a wicket where you had to work hard, be patient. there was a little bit of help outside the off stump, in terms of footmarks. Second innings, they helped us out with their shots. The reason we were slow was because he wanted to get them driving. There was not much bounce to get catches at short leg. I knew Boult was coming, and he'd give me footmarks, so I wanted them lunging out. I have to give special mention to Shami, Bhuvi and Umesh, they got us a lot of wickets with reverse swing and Jaddu is a perfect foil. Virat had told me he was trying to rotate the bowlers, and it did help, Jaddu got the wicket of Guptill."
Gautam Gambhir: "The Important thing was intent, we wanted to get quick runs so we can have enough runs and overs to get them out. When you come into international cricket with runs under your belt in four-day games, it gives you a lot of confidence. We wanted to play normally in the first hour, but after that we wanted to get four and five per over which was not that difficult with the kind of fields they had for us. Pujara played unbelievably well. Making up after missing out two years, and getting a half-century in four years, it was sweet." 
16:49 hrs IST: And that's it. Ashwin removes Boult. India beat New Zealand by 321 runs to cleansweep series 3-0. 
India beat New Zealand by 321 runs in Indore Test and win the @Paytm Test Series 3-0. #IndvNZ pic.twitter.com/LX3HzCTG3B

— BCCI (@BCCI) October 11, 2016
16:44 hrs IST: Play will be extended by another 20 minutes. 
16:40 hrs IST: New Zealand are 149/9 after 43 overs. 
16:25 hrs IST: Boult plays out a maiden. Good stuff from Jadeja.
16:12 hrs IST: WICKET! That's six for Ashwin. Henry is caught by Shami at mid-off. India one wicket away from a 3-0 series sweep.
16:08 hrs IST: WICKET! Jeetan Patel becomes Ashwin's fifth victim of this innings. That's the off-spinner's 21st five-wicket haul in Test cricket.
16:03 hrs IST: WICKET! Ashwin cleans up Santner with a delivery that didn't turn at all. Too good!
15:56 hrs IST: SIX! Santner makes no mistake in dispatching Ashwin's full-toss for a six over long-on. Rare bad ball from the in-form off-spinner.
15:48 hrs IST: Santer opens the face of his bat to guide Shami's ball down to the third man boundary for four.
15:40 hrs IST: FOUR! Watling drives Jadeja's flighted delivery four a four through the covers.
15:32 hrs IST: GONE! Jadeja traps Guptill LBW for 29. Six down!
15:28 hrs IST: FOUR! Outside edge off Guptill's bat flies past the keeper for a four. Good stuff from Shami.
15: 23 hrs IST: WICKET! Neesham is caught by Kohli at short midwicket off Jadeja's bowling. India inch closer to a series sweep.
15:19 hrs IST: WICKET! After Taylor, Ashwin knocks over Ronchi. That's his third wicket of the innings. Sensational off-spin bowling on display in Indore.
Ashwin continues to register new records.
Bowlers dismissing Kane Williamson most times in Tests
5 - Pragyan Ojha and R Ashwin#IndvNZ

— Mohandas Menon (@mohanstatsman) October 11, 2016
15:14 hrs IST: FOUR! Ronchi rocks on to the back foot and cuts Jadeja's loose delivery for a four.
15:02 hrs IST: WICKET! Ashwin cleans up Taylor, who attempted the slog sweep. The off-spinner waves bye-bye to the Kiwi batsman.
14:58 hrs IST: Ashwin on the money again. Guptill plays out a maiden. Good cricket all around!
14:50 hrs IST: FOUR! Taylor steps out and clobbers Ashwin for a boundary over mid-wicket.
14:44 hrs IST: SIX! Flighted delivery from Ashwin, Taylor again steps out and lofts it over mid-on. New Zealand are 61/2 after 13 overs. 
14:42 hrs IST: FOUR! Tossed up from Ashwin, Taylor dances down the track and hits it past the fielder at mid-on for his first boundary. 
14:37 hrs IST: WICKET! Ashwin removes Williamson for the fourth time in series. New Zealand are 42/2 after 11 overs. 
14:33 hrs IST: Maiden over from Jadeja. New Zealand are 38/1 after 10 overs. 
14:31 hrs IST: Welcome back! Jadeja to start the proceedings for hosts.
14:11 hrs IST: And that's tea. New Zealand are 38/1 after 9 overs. We'll be back in 20 minutes time. 
14:05 hrs IST: Virat Kohli-led India to receive this prestigious ICC honour after Indore Test.
13:58 hrs IST: New Zealand are 22/1 after 7 overs. Williamson 13*, Guptill 2*
13:49 hrs IST: FOUR! Straying down leg and Williamson times it well to long leg for his first boundary of the innings. 
13:46 hrs IST: New Zealand are 10/1 after 4 overs. 
13:37 hrs IST: OUT! Umesh gives India first breakthrough. And the Indore crowd goes berserk. Latham departs for six. New Zealand are 7/1 after 2 overs. 
13:32 hrs IST: SIX! What a way to get off the mark! Poor delivery from Shami (down leg) and Latham flicks over square leg for a maximum. 
13:27 hrs IST: Time for NZ's innings. Latham to take strike. Shami to bowl the first over for India. 
13:20 hrs IST: We'll be back with NZ's chase in a few minutes. 
13:16 hrs IST: FOUR! And that's hundred for Pujara. His first in the series and 8th overall in Tests. What an innings! India declare and set NZ a target of 475 runs. 
Cheteshwar Pujara...
8th Test century
2nd v N Zealand
2nd in 2nd innings
6th at home
7th at #7
34th in fc cricket#IndvNZ

— Mohandas Menon (@mohanstatsman) October 11, 2016
13:09 hrs IST: Single of the last ball off Henry's over for Pujara. Time for drinks. 
13:03 hrs IST: Pujara has scored 350 runs aggregate in this series so far. 
12:56 hrs IST: FOUR! Too short again from Jeetan, Pujara rocks back and smashes it in the hap between deep mid-wicket and deep square leg boundary. Moves to 88 now. 
12:52 hrs IST: India are 185/3 after 45 overs, lead by 443 runs. 
12:43 hrs IST: India are 170/3 after 42 overs, lead by 428 runs.
12:39 hrs IST: FOUR! Slightly short from Jeetan and Pujara cuts it past the fielder at short third-man. 
12:33 hrs IST: WICKET! Kohli lbw b Jeetan 17. India are 158/3 after 40 overs, lead by 416 runs. 
12:27 hrs IST: India should look to declare after crossing 420-run mark. 
12:20 hrs IST: India are 143/2 after 37 overs, lead by 401 runs. 
12:13 hrs IST: FOUR! Too short from Santner, Pujara goes back and pulls it to deep mid-wicket boundary. 
12:10 hrs IST: Welcome back! Kohli to take strike. Santner to bowl the first over. 
11:32 hrs IST: And that's lunch. India have an overall lead of 385 runs. We'll be back in a few minutes time. 
Take a look at the session summary at Lunch on Day 4 of the third Test #INDvNZ. India now has extended the lead to 385 runs pic.twitter.com/25T27NHPx5

— BCCI (@BCCI) October 11, 2016
11:29 hrs IST: Single and that's fifty for Pujara. His 11th in Tests. Well played! 
11:23 hrs IST: India are 114/2 after 32 overs, lead by 372 runs. Seven minutes to go for lunch. 
11:17 hrs IST: OUT! Gambhir c Guptill b Jeetan 50. India are 110/2 after 30 overs, lead by 368 runs. What this means is if KL Rahul gets fit for England series, India might opt to drop Shikhar Dhawan because there seems no point in having 4 openers in the squad. 
11:14 hrs IST: Two runs and that's fifty from Gambhir. His 22nd in Tests and first since 2012. Superb innings from the southpaw! Well deserved! 
11:07 hrs IST: India are 104/1 after 28 overs, lead by 362 runs. 
10:58 hrs IST: India's lead crosses 350. Another 100 runs would be more than enough for them. 
10:52 hrs IST: FOUR! Length ball from Boult, Pujara steps out and smacks it to long-off boundary. Moves to 28 now. 
10:51 hrs IST: Singles of the last ball for Pujara. India are 82/1 after 24 overs, lead by 340 runs. 
10:47 hrs IST: Jeetan Patel replaces Santner. 
10:45 hrs IST: India are 78/1 after 23 overs, lead by 336 runs. 
10:39 hrs IST: FOUR! Too full from Boult and Gambhir flicks it past mid-wicket for his fifth boundary. Moves to 33 now. 
10:29 hrs IST: Four runs off Santner's eighth. Time for drinks. 
10:26 hrs IST: India are 54/1 after 19 overs, lead by 312 runs. 
Today in 1943: West Indian all-rounder Keith Boyce was born. He is the only international cricketer to have died (in 1996) on his birthday!

— Mohandas Menon (@mohanstatsman) October 11, 2016
10:19 hrs IST: FOUR! Flighted delivery from Santner and Pujara executes the paddle sweep well past Kane Williamson at short fine leg. 
10:15 hrs IST: Single and India's lead reaches 300. 
10:09 hrs IST: FOUR! First boundary of the day for Gambhir and a much needed one. India are 41/1 after 15 overs. 
10:04 hrs IST: And here comes Gautam Gambhir.
10:02 hrs IST: WICKET! Vijay run out (Guptill) 19. India are 34/1, lead by 292 runs. 
09:55 hrs IST: Slight away movement for Henry, Pujara looks to defend but gets beaten. 
09:54 hrs IST: New Zealand will really have to dig deep to draw this Test, else a 3-0 whitewash is well on the cards. Didn't expect this result before the start of the series. 
09:45 hrs IST: Two maidens in a row. India are 26/0 after 10 overs. 
Ravi Shastri: "Jayant Yadav is a promising off-spinner. I'm sure he'll do well in the ODIs."
09:38 hrs IST: Dot ball to finish off from Santner. If both these batsmen can get through the first hour, the hosts will more than likely have a lead close to 450 till tea. 
09:35 hrs IST: Santner now. He bowled just one over yesterday. 
09:34 hrs IST: Four singles off the over. India are 22/0 after 7 overs, lead by 280 runs. 
09:32 hrs IST: First runs of the day for Vijay. Straying down leg and the opener flicks it off his pads to long leg for a single. 
Two legends, one frame - Wishing everyone a #HappyDussehra pic.twitter.com/7CUhbViOoh

— BCCI (@BCCI) October 11, 2016
09:30 hrs IST: Matt Henry to start the proceedings for visitors. Vijay to take strike. He is unbeaten on 11. 
09:29 hrs IST: New Zealand players make their way out in the middle and so do Murali Vijay and Cheteshwar Pujara. 
09:20 hrs IST: A warm welcome to our live coverage of the fourth day's play of the third and the final Test between India-New Zealand.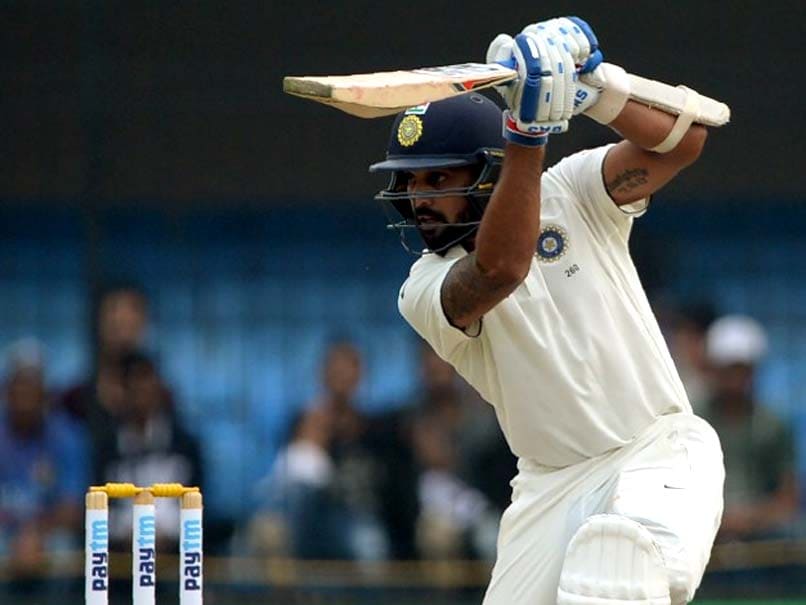 Veteran opener Gautam Gambhir was retired hurt on six after sustaining a shoulder injury while going for a second run. At stumps, Cheteshwar Pujara (1) and Murali Vijay (11) were at the crease for the hosts.
The day belonged to Ashwin, who used the bowlers' rough brilliantly by operating from the pavilion end to get his 20th five-wicket haul in his 39th Test.
The off-spinner, who grabbed 10 wickets in the series opener at Kanpur and four in the second match at Kolkata, also ran out two batsmen off his own bowling.
His spin partner Ravindra Jadeja accounted for the other two wickets in the visitors' innings.
With New Zealand already staring down the barrel, Virat Kohli-led India will look to inflict more pain on their wounded opponents on Day 4.
Topics mentioned in this article
Cricket , 1900-01-01 ,
India Cricket Team , 1900-01-01 , India
New Zealand Cricket Team , 1900-01-01 , New Zealand
Holkar Cricket Stadium, Indore , 1900-01-01 , India
Murali Vijay , 1984-04-01 , India
Cheteshwar Pujara , 1988-01-25 , India
Live Cricket Score , 1900-01-01 ,
Live Score , 1900-01-01 ,