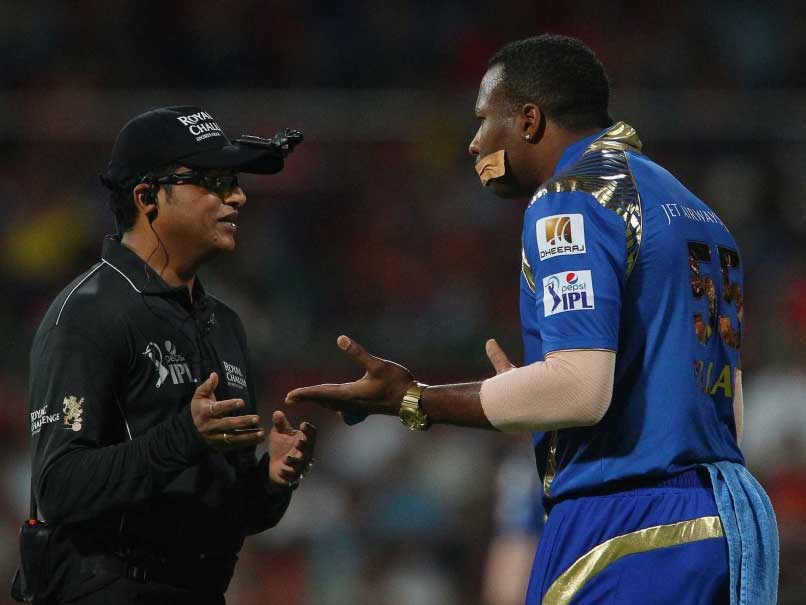 Kieron Pollard denied Evin Lewis the fastest ton in the CPL.
West Indies all-rounder Kieron Pollard found himself at the centre of a huge controversy after he bowled a no-ball to deny opposition batsman Evin Lewis his century in the Caribbean Premier League match. Pollard was severely criticised on social media for bowling a big no-ball with St Kitts and Nevis Patriots needing just one run to beat the Barbados Tridents. The 25-year-old Lewis was batting on 97 off 32 balls with captain Chris Gayle for company and the score at 129/0. "It hurts (missing out on the ton), but hitting 97 not out off 33 balls? I'll take that any day," Lewis said in the post-match press conference.
I liked a @YouTube video https://t.co/F2Wlj5ehDg Kieron Pollard Cheating Evin Lewis To Stop Making Fastest T20 100 Ever - Sep 4 CPl

— ARA23 (@AravinthKongu1) September 4, 2017
Pollard's actions left cricket fans fuming.
So Kieron Pollard bowls a no-ball to deny Evin Lewis a hundred in CPL. S Randiv was suspended for a match when he did that to Sehwag in 2010

— Mazher Arshad (@MazherArshad) September 4, 2017
You should be ashamed of yourself @KieronPollard55 .... the kid deserved a ton.. #cpl17

— Innocent Bystander (@InnoBystander) September 4, 2017
Kieron Pollard denied Evin Lewis (97 no) the chance of scoring second fastest 100 of all times by bowling huge no ball on purpose #BanHim

— Joost van der Geest (@yoc123) September 4, 2017
While what #KieronPollard did last night is disgusting at all levels. What is shameful is that Evin Lewis is young and a fellow #trini!

— Denise Besai (@deniseb1305) September 4, 2017
Kieron Pollard got away with too many ill discipline actions and poor sportsmanship throughout this season's CPL. Ego overload

— Gary Lewis (@slidemongoose) September 4, 2017
If Lewis had got to this century in 33 balls, it would have been the second fastest in cricket history, just short of Gayle's 30-ball Indian Premier League ton in 2013.
Pollard's act was reminiscent of Suraj Randiv's infamous ball to Virender Sehwag in 2010, where he bowled a no-ball to leave the Indian opener stranded on 99.
Sehwag criticised Randiv's actions in the post-match press conference. Sri Lanka Cricket and off-spinner later apologised to Sehwag.