Story Progress
Back to home
Sanjay Manjrekar Trolled By Fans For 'Trial By Spin In Bangladesh' Tweet
The Windies were clueless against Bangladeshi spin and lost the Test by an inning and 184 runs.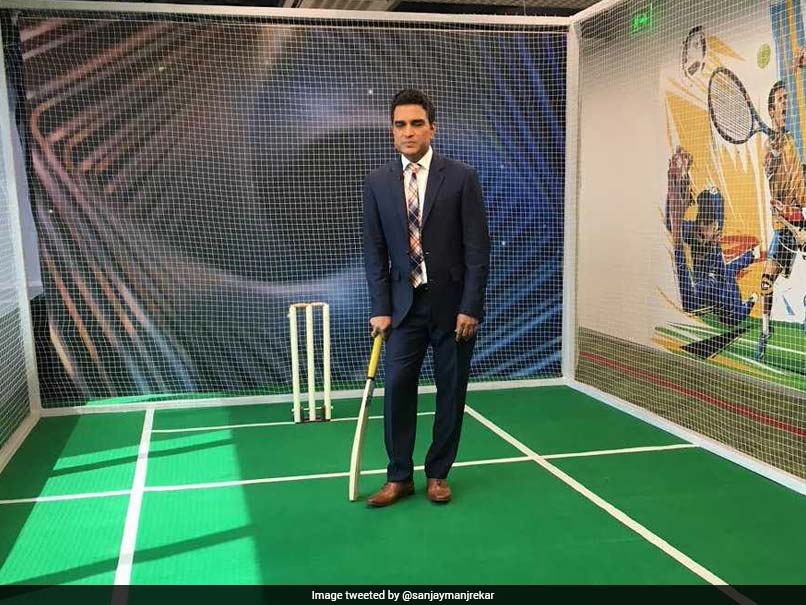 Sanjay Manjrekar's post on Twitter didn't go down too well with some fans.
© Twitter
Highlights
Sanjay Manjrekar comes under fire from fans for his post on Twitter

Manjrekar said that teams that can't play spin should not tour Bangladesh

Bangladesh thrashed the Windies in 2nd Test to win series 2-0
Former India batsman Sanjay Manjrekar was in the news last week for taking a pot-shot at star all-rounder Ben Stokes following England's 3-0 Test series win over Sri Lanka. Ben Stokes took to Twitter to hit back at the commentator. On Monday, Manjrekar was once again in the eye of the storm after commenting on the Bangladesh vs Windies Test series. Following Bangladesh's record win over the Caribbean outfit in the second and final Test, Manjrekar tweeted: "If you don't play spin well, don't bother going to Bangladesh". The comment didn't go down too well with fans on Twitter.
If you don't play spin well, don't bother going to Bangladesh. They play four good spinners now. There's no escape.#TrialBySpin

— Sanjay Manjrekar (@sanjaymanjrekar) December 3, 2018
Fans called out Manjrekar for his tweet with some pointing at England's brilliant performance in Sri Lanka.
So why we went to England then?? When we can't play swing well as England plays 4 good fast bowlers

— Vaibhavbansal (@vaibhavbnsl21) December 3, 2018
In that sense only Virat should go outside the subcontinent from India. You have a very horrible way of analyzing.

— Nihar Bhatnagar (@nihar_bhatnagar) December 3, 2018
None of your statements make any sense.

— Sambit kumar Parida (@ucntcme90) December 3, 2018
Isn't that how you improve? India have been going to Africa and Australia for 35 years now without winning. Should they stop touring?

— Nishant Patel (@patel_nishu) December 3, 2018
By that logic everyone should stay at home. Sir these days you seem out of it. Hope all is ok. Get well soon.

— ASB (@ahmad9998) December 3, 2018
you mean only Asian countries should go there! Interesting to see ENG going to Bangladesh now

— The RC- Rajan Chande (@ChandeRajan) December 3, 2018
So Bangladesh should not go to England then???

— ASB (@ahmad9998) December 3, 2018
Velakenna, eng played much better than this.. and all you did was criticize.

— Harish (@harishkp21) December 3, 2018
Also Zimbabwe defeated Bangladesh on a rank turner. Believe it's more of a wind the toss and bat first and get 350-400 on the board. Team batting 2nd will definitely struggle

— Karan Sharma (@PunjKaran) December 3, 2018
Just last week, Manjrekar was slammed by Stokes for making a controversial "chef" tweet after England's Test series of Sri Lanka.
So you have these hardworking chefs who have made a great dish. Someone comes and puts a little garnish on top and he gets all the credit. Moeen, Leach, Foakes are those poor chefs and Stokes the one with the garnish.

— Sanjay Manjrekar (@sanjaymanjrekar) November 28, 2018
Responding firmly to Manjrekar's jibe, Stokes said that cricket is a team sport.
We don't care about personal credit,and garnish is pointless on all food anyways,we care about winning,it's a team sport and we won as a team #3-0 Cheers Sanjayhttps://t.co/4oVhPVm1d5

— Ben Stokes (@benstokes38) November 28, 2018
Mehidy Hasan claimed a career-best haul of 12 wickets as Bangladesh thrashed the Windies by an inning and 184 runs in the second Test in Dhaka to clean sweep the two-match series 2-0 on Sunday.
Hasan took seven wickets in the first innings, in which the visitors were bundled out for a paltry 111 runs. The 21-year-old off-spinner claimed five wickets in the subsequent innings to wrap the Windies for 213 on the third day.
Promoted
It was Bangladesh's biggest Test win and the first-ever innings victory in their Test history. Earlier, Bangladesh had won the first Test by 64 runs in Chittagong.
The Windies, on the other hand, became the first side ever to be asked to follow-on by Bangladesh in a Test match.
Topics mentioned in this article