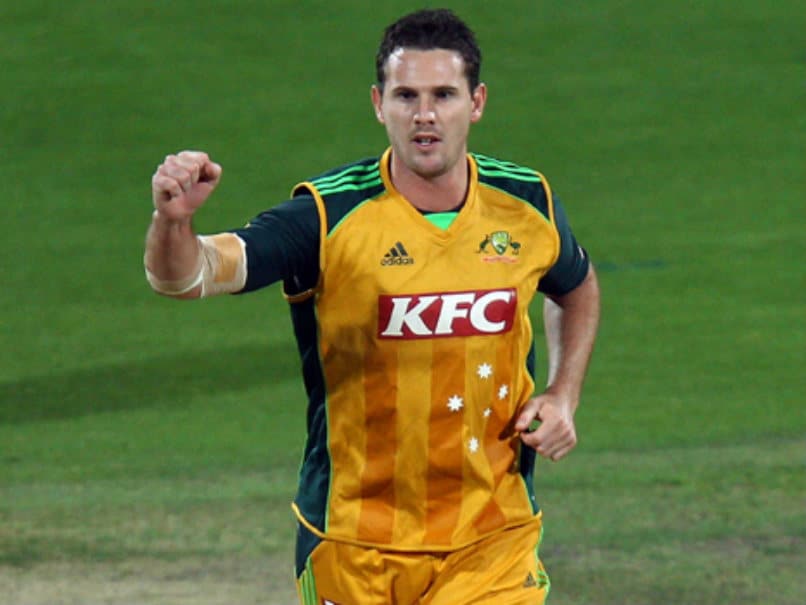 Shaun Tait last played for Australia in a T20I match against India in January 2016.
© AFP
Australian fast bowler Shaun Tait, known for bowling at speeds in excess of 150kmph, has officially become an Overseas Citizen of India (OCI). The tearaway pacer posted a picture of his OCI passport on Twitter to reveal the news. The Australian cricketer had married Indian model, Mashoom Singha, in June 2014. The 2007 ODI World Cup winner started dating the Indian model while playing the Indian Premier League (IPL) with the Rajasthan Royals in 2010. The duo dated for four years before tying the knot with Indian cricketers Yuvraj Singh and Zaheer Khan attending the event.
Tait, who has reportedly bowled the second fastest delivery in cricket history, had played a key role in Australia's triumph during the 2007 ODI World Cup triumph in the West Indies.
March 19, 2017
Tait ended the tournament as the joint-second highest wicket-taker with 23 scalps to his name. Fellow-Australian pacer Glenn McGrath topped the list with 26 wickets while Sri Lankan spinner Muttiah Muralitharan took 23 wickets as well.
Tait, however, failed to live up to expectations post the World Cup with nagging injuries derailing his career. His body just could not cope up with the heavy workload of consistently bowling at 90mph, resulting in him focusing only on T20Is.
Tait's Test career came to a grinding halt in 2008, while his ODI stint ended in 2011. The pacer's last game in Australian colours was a T20I against India in January 2016.
Fans might be excited by the news and hope that Tait will now don Team India colours. However, the International Cricket Council (ICC) rules clearly state that a player needs to wait for at least four years after playing his last international to represent another country.
So with Tait playing his last game for Australia in 2016, he will have to wait till 2020 to play for India, by which time he will be 38 years old. Not sure how that will work out for Indian cricket.
Topics mentioned in this article
India Cricket Team
Australia Cricket Team
Shaun Tait
Rajasthan Royals
Cricket