Story Progress
Back to home
Ashish Nehra's Parting Shot: Didn't Take Selectors' Permission To Start Playing, Don't Need One Now
Ashish Nehra was dismissive about the chief selector's take on his prospects beyond the New Zealand series.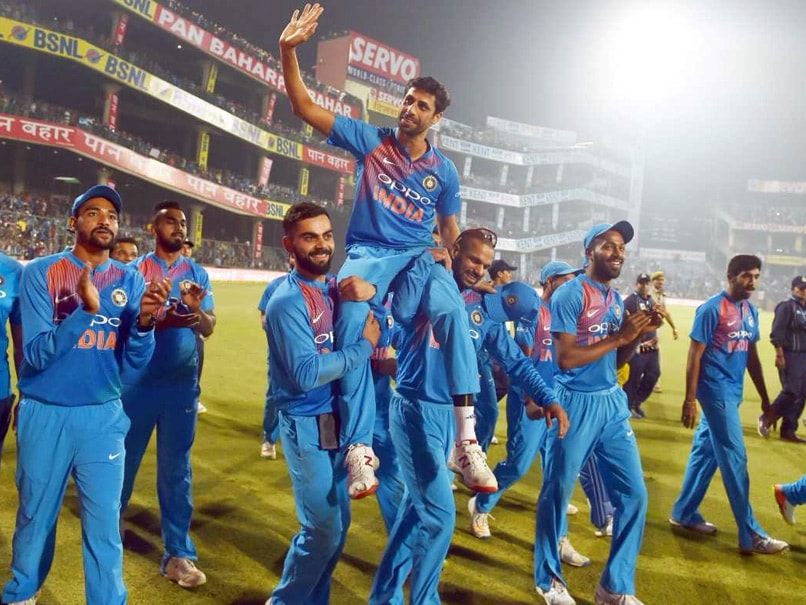 Nehra said he never asked for a farewell match but got lucky that he got one in front of his home crowd
© PTI
Highlights
Nehra says he does not need permission to quit

Chief selector said that Nehra won't be considered beyond NZ series

Nehra played his last international match on Wednesday
Ashish Nehra is a man of few words. The left-arm pacer played his last international match on Wednesday as India beat New Zealand by 53 runs in the first Twenty20 at the Feroz Shah Kotla Stadium on Wednesday night. However, the 38-year-old didn't leave without having a last say. Chief selector MSK Prasad had recently said that Nehra will not be considered for selection beyond the three-match T20I series against New Zealand. Following his farewell match, Nehra said that he started playing without the selectors' permission and is now leaving without it.
"I heard this," Nehra said when asked about Prasad's comments.
"I don't know. The chairman of selection committee has not spoken to me about this. You have asked me this question, and I can only tell you about my interaction with the team management.
"When I reached Ranchi, I told Virat about my plan, and his first reaction was, 'Are you sure? You can still play IPL. You can play as coach-cum-player.' I said no. I am retiring completely."
The 38-year-old Nehra made it clear that he did not ask for a farewell game, calling himself lucky that he got one in front of his home crowd.
"I have been saying this again and again. Luckily this game happened to be in Delhi. I have not asked for a farewell game or anything. This is perhaps one way that god has rewarded me for all the hard work I have put in over the last eight-nine years.
"I hope Virat and coach Ravi Shastri are part of the team management because those are the people I spoke to. I have not spoken to any selector over this issue."
He further added, "When I started playing cricket, I didn't take any selector's permission. When I am leaving, I am not leaving with their permission."
Prasad had recently said that there was no assurance on Nehra's availability for the first T20 International at the Feroz Shah Kotla.
"We have clearly communicated to the player, Ashish Nehra, and to the team management that we are only looking at him till the New Zealand series," Prasad had said.
Nehra said he was convinced about his decision to call it quits and was happy to see the progress made by Bhuvneshwar Kumar alongside Jasprit Bumrah.
"When I went there, I went with my plan. I felt that Bhuvneshwar Kumar was ready. If you had seen earlier, Bumrah and I have been playing.
Promoted
"Even today people were wondering if Ashish Nehra will play or not, but if I was in the 15 today, I was obviously going to play. I didn't come to just look around," Nehra told reporters.
(With PTI inputs)
Topics mentioned in this article