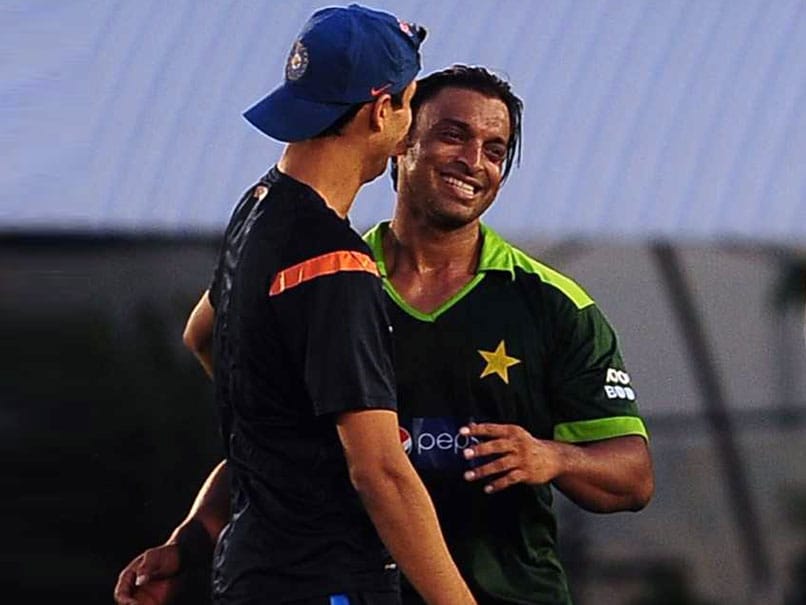 Shoaib Akhtar posted a warm message for Ashish Nehra on Twitter.
© AFP
Veteran India pacer Ashish Nehra called time on his 18-year career on November 1 by playing his last match in competitive cricket against New Zealand at the Feroz Shah Kotla in New Delhi. After the match, which India won by 53 runs, Nehra received a grand farewell not only from his teammates but cricketers worldwide. Former Pakistan seamer, Shoaib Akhtar is the latest cricketer to heap praise on the 38-year-old Indian and said that it was nice playing against him. Taking to Twitter, Shoaib Akhtar wrote, "1 of the nicest guy & honest fast bowler has retired from INTL cricket. A Nehra it was pleasure playing against u #Cheers fella#"
1 of the nicest guy & honest fast bowler has retired from INTL cricket .A Nehra it was pleasure playing against u #Cheers fella#

— Shoaib Akhtar (@shoaib100mph) November 2, 2017
Following his tweet, fans agreed with what the former right-arm bowler had to say about Nehra.
How heartwarming is it to see players appreciating others crossing each and every border...may this world progress to a peaceful place..

— Rahul Sharma (@RahulSh52981212) November 2, 2017
Yes exactly No doubt #Nehra was really a great bowler in the history of Indian cricket!

— Ali Hassan (@AliHass96442180) November 2, 2017
True sportsmanship, one legend praising another.

Honestly, we followed your bowling too equally.

— Ramurthi Naidu (@Raamurthi) November 3, 2017
Nice to show respect

— Mudassir Tariq (@MudassirTariq87) November 3, 2017
One of the celebrated cricketers in India, Nehra appeared in 17 Tests, 120 One-day Internationals (ODIs) and 27 Twenty20 Internationals (T20Is) taking 44, 157 and 34 wickets respectively.
The Delhi and Districts Cricket Association (DDCA), in a tribute to Nehra, named one of the playing ends at the Feroz Shah Kotla Stadium after the veteran seamer. Nehra became only the second bowler in international cricket, after England paceman James Anderson, to bowl from his own end.
'Ashish Nehra End' was written, for a day, on the first tier in the centre of the Ambedkar Stadium Stand.
Apart from Akhtar, Nehra's teammate Yuvraj Singh in a Facebook post also addressed him as an honest man.
The left-arm bowler, who played his first game at Feroz Shah Kotla in 1997, in a post-match conversation with former India cricketer Sanjay Manjrekar, said that even though he will miss playing cricket, his body will be at peace.
"I will miss all this. That's what you train for. One thing which will definitely be at peace will be my body. I said earlier that I can go a couple more years, but there can't be a better time to walk away."