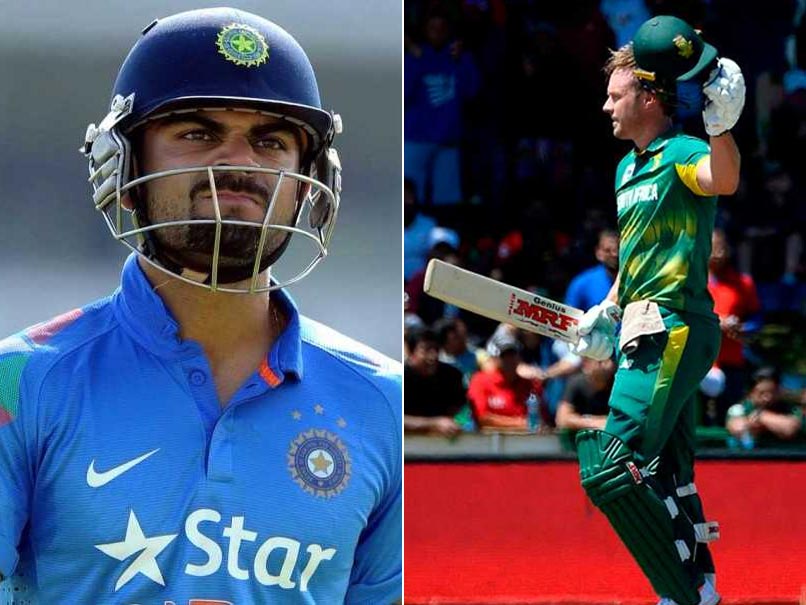 AB de Villiers pipped India captain Virat Kohli to become world number one ODI batsman.
© ICC/AFP
South Africa's star batsman AB de Villiers on Friday pipped India captain Virat Kohli to become world number one ODI batsman, according to the updated International Cricket Council (ICC) ODI rankings chart. Kohli with 877 points, dropped one place to take the second spot in the batting rankings. AB de Villiers has 879 points. An astonishing knock of 176 by de Villiers in the second ODI against Bangladesh in Paarl also helped South Africa edge India at the top of the ICC ODI Team Rankings. South Africa took a 2-0 lead in the three-match series.
While India and South Africa have identical 120 points against their names, India are placed second on the basis of decimal points. India had claimed the top spot in the rankings following their 4-1 win over Australia at home recently.
But, India have a chance to reclaim their top spot as they host New Zealand in a three-match ODI series, scheduled to begin in Mumbai on October 22.
South Africa and India are both on 120 points with South Africa ahead on decimal points. South Africa can reach 121 points if they complete a 3-0 series win over Bangladesh but India will overtake them if they win the opening match against New Zealand, to be played the same day as the last South Africa-Bangladesh match, on 22 October.
If India win that match, they too will be on 121 points but ahead in decimal-point calculation. However, India will have to win the series against New Zealand 3-0 to retain the top spot should South Africa win the last match against Bangladesh.
India opener Rohit Sharma also saw a fall in his rankings. He dropped two places to seventh position from the fifth.
In the bowlers' rankings, India's unorthodox pacer Jasprit Bumrah dropped one place to take the sixth spot with 671 points. Left-arm spinner Axar Patel also moved one place down to eighth spot.
Pakistan's Hasan Ali has emerged as a new number one among bowlers in the latest ranking.
Pakistan's Mohammad Hafeez is back as the top all-rounder, edging Bangladesh's Shakib Al-Hasan. Hafeez, who first attained top ranking in January 2013, has reached the top spot for the ninth time.
In the all-rounder rankings, Hardik Pandya (15) and Ravindra Jadeja (19) are the only two Indians in the top 20.