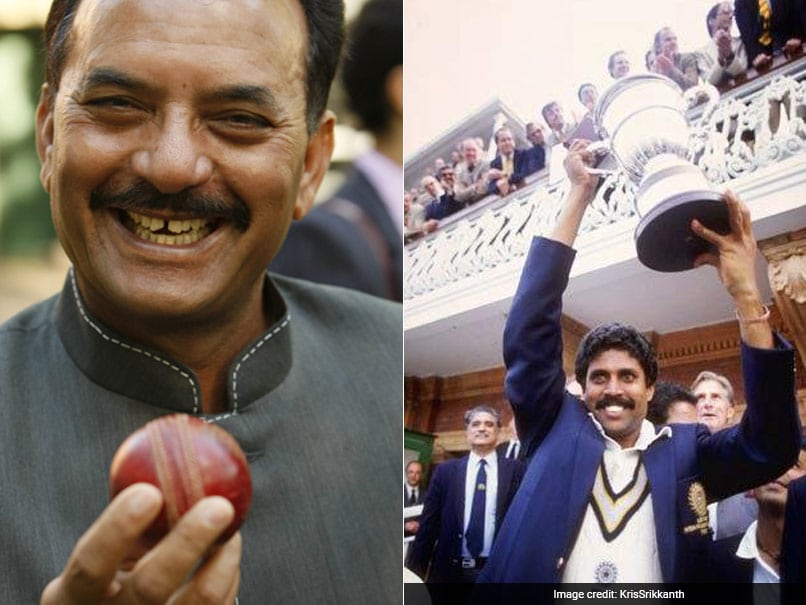 Kapil Dev recollected how Madan Lal literally snatched the ball from him.
© AFP/Twitter
It was 1983 when Kapil Dev-led Team India created history by beating a star-studded Clive Lloyd's West Indies side in front of a jam-packed Lord's Cricket Ground to lift the coveted World Cup trophy. Many of us must not have witnessed Team India's historic feat but will soon get a chance to cherish the golden moments on the silver screen. In the promotional event on Wednesday, the World Cup-winning stars, including then captain Kapil Dev, gathered in Mumbai to share the memories of the historic day. Kapil recollected how his team's senior pacer Madan Lal, who could barely hit 130 kmph during his playing days, literally snatched the ball from him to get another over.
The target for the opposition was just 184 in the final and it was more than a gamble for Kapil to hand him one more over. Lal took Vivian Richards' wicket in the same over and the the rest is history.
"Before that particular over, two-three fours were hit off Madan. So I went to Madan asked him to take a break and comeback after a few overs. To which Madan said 'Kapsi (that's how his teammates called him), you give me the ball. I have earlier dismissed Vivian Richards, I can do it once more," Kapil recalled.
"When a player is so confident, even though I was not too keen, I thought, let him bowl another over. They say, some things just happen for you and this happened with us," Kapil said.
Kapil also hailed every player's role in the team's victory.
"In our hearts, we knew that our team was not the best in the business. Halfway through the tour, we realised that we had a team. When our team was picked, we did not have much confidence but once we started winning matches, everyone was more motivated and played like leaders."
Kapil, who was not very fluent with the English language, shared his experience how he tackled his problem on and off the cricket field.
"I was from agriculture background and all of my co-players were from cultured background. So, it had become a part of my image and it showed in my behaviour at the time."
"When we started playing, it was played in English and not in Hindi. When I was made the captain, people said that I don't even know how to speak in English and I shouldn't be the captain. So, I said that they should call someone from Oxford to speak in English and I will continue to play cricket."
Other members of the squad - K Srikanth, Roger Binny, Kirti Azad, Yashpal Sharma, Sandeep Patil, Mohinder Amarnath, Balwinder Singh Sandhu, Dilip Vengsarkar, Sunil Valson and team's manager PR Man Singh also shared their memories of the historic win.