Story Progress
Back to home
Sarita Devi Vows to Silence Zsofia Bedo in Pro Debut
Sarita Devi will debut in professional boxing on Sunday in Imphal when she takes on Zsofia Bedo of Hungary.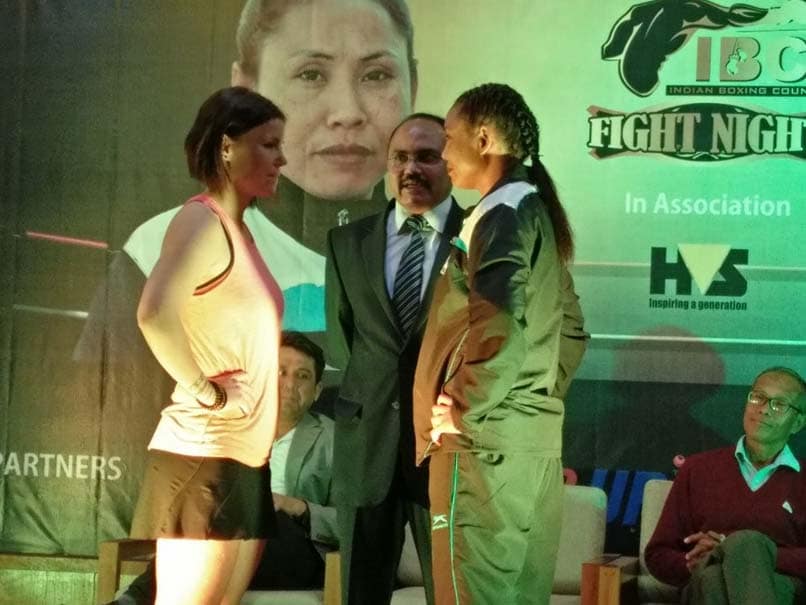 Sarita Devi will be making her debut professional boxing on Sunday.
© NDTV
Highlights
Imphal will host Sarita Devi's pro bout

This will be her maiden pro fight

She will become India's first woman pro boxer
L Sarita Devi will take on Hungary's veteran Zsofia Bedo at the Khuman Lampak Stadium in Imphal on Sunday in what will be her debut in professional boxing. She will become the first boxer from India to fight a pro bout. The five-bout IBC Fight Night will also witness Pinki Jangra and Som Bahadur Poon make their professional debut. Sarita had a face-off with Zsofia on Saturday. The 59-pro bout veteran has experience on her side but Sarita exudes confidence that she had trained hard to silence her opponent.
"These (professional) boxers always make tall claims. I have trained really hard, my coach is among the best in professional boxing, he is monitoring my progress. He is confident, I have trained up to eight hours every day," said Sarita.
"I am playing for the pride of Manipur, I am playing for the pride of India. I have to give a gift of victory to my fans. Ask her (Zsofia) after the bout tomorrow, you will find her looking for excuses. She made fun of my emotions. Yes I cry, because I am not ready to lose."
Promoted
Zsofia is not ready to take Sarita seriously.
"She (Sarita) is starting her career. She will start learning about pro boxing. Her amateur past is nothing here. I have come so far, it is only to win. If you have fan support, there is pressure on you. May be everyone knows who is Sarita here. On Sunday evening they will know there is a girl from Hungary Zsofia Bedo, who beat Sarita in her home city," said Zsofia.
Topics mentioned in this article