Story Progress
Back to home
Zimbabwe vs India: Zimbabwe vs India 2022 Live Cricket Score, Live Score Of Today's Match on NDTV Sports
Live Updates of Today Match between Zimbabwe vs India from Harare Sports Club, Harare. Check commentary and full scoreboard of the match.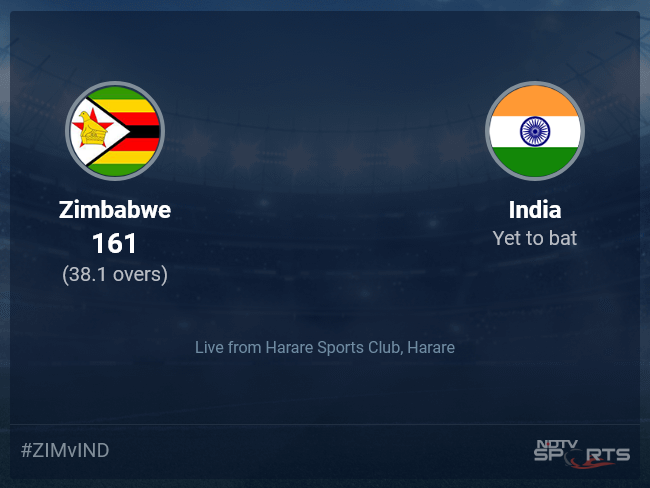 ZIM vs IND Latest Score
A dedicated team of experts bring you live score, live cricket score, live match update on Sports.NDTV.com. After 38.1 overs, Zimbabwe are 161. The live updates of Zimbabwe vs India scorecard is also available. It is the perfect platform to follow your favourite teams in Zimbabwe vs India 2022. Keep a track on your favourite batsmen and bowlers through Zimbabwe vs India 2022 today match, ball by ball commentary, Zimbabwe vs India, Zimbabwe vs India live score, Zimbabwe vs India scorecard. Follow the excitement of the Zimbabwe vs India 2022 on Sports.NDTV.com as you can follow live match updates and live cricket score through our platform.
Right then, India have a simple chase at hand again. The only thing that interests us is to find out who will open for them. Will the pair of Shikhar Dhawan and Shubman Gill continue? Or are we going to see a different opening combination? Do join us in a short while to find out.
On being asked about coming on as the first change, Shardul Thakur replies that it's a bit of both, he looks at what lengths the opening bowlers bowled and if there's swing on offer or not and it also depends on the batter. Shares that early on the pitch was on the slower side and not being too full or too short was the key. Also adds that later on pitch quickened up and hence they tried to bowl bouncers. Mentions that he has a good skill set and it is just about polishing it in the net. Also says that when the other bowlers are doing good, it's just about hitting the right lengths.
The Indian bowling was once again exceptional. Their fast bowlers got favourable conditions to bowl again and left their mark. They didn't pick early wickets but always had the Zimbabwean batters on the back foot. Every bowler contributed and Shardul Thakur was the pick with a 3-wicket haul. Here he is, having a quick word...
No doubt, the conditions upfront were challenging but after surviving 8 overs or so without losing any wicket, expectations were high from Zimbabwe. But once the first wicket fell, it was a procession. Four wickets went down in a hurry and a little bit of rescue act was done by the pair of Sikandar Raza and Sean Williams. Both the experienced batters didn't last for long though and it was due to Ryan Burl's knock that the hosts crossed the 150-run mark.
Yet another poor batting show by Zimbabwe, poorer than the first ODI by 28 runs. No fight. No application. Nothing. A meek surrender once more. Losing the toss was a big blow to them but as an international team, you should be ready to do both, with better planning. Zimbabwe lacked planning and execution and got bundled out for a paltry total.
38.1 overs (1 Run) OUT! RUN OUT! A catastrophic end to the Zimbabwean innings. Prasidh Krishna starts off the new spell with a length ball around off. Ryan Burl taps it away towards deep cover and gets across for a single. Ryan Burl though wants to get back on strike and starts running for the second. Bot batters are left stranded near the batter's end and Tanaka Chivanga has to scamper back. Kuldeep Yadav picks up the ball and throws it to the bowler who has an easy job of just whipping off the bails. Chivanga is the last man to depart for Zimbabwe and they have been bundled out for 161!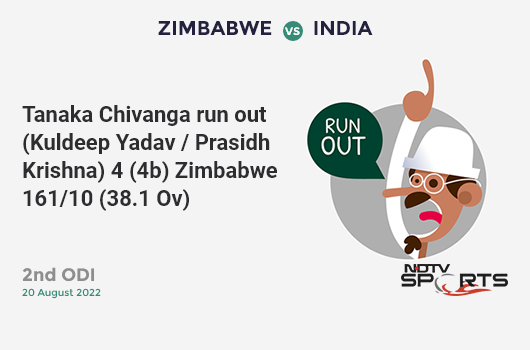 37.6 overs (0 Run) Shout for an lbw! Not given and India take the review. This is flighted, on a shorter length and on off. The ball turns in a long way as Chivanga gets pushed onto the back foot. Chivanga fails to work it on the leg side and gets hit on the pads. There is an appeal for LBW but it is turned down. The visitors do go upstairs and there is no spike on the UltraEdge. But the Ball Tracking confirms that the ball is missing the leg stump.
37.5 overs (0 Run) Around middle pushed away towards mid on.
37.4 overs (0 Run) This is floated on middle and leg, Chivanga blocks it out.
37.3 overs (4 Runs) FOUR! A bit dragged down from Kuldeep and Tanaka Chivanga slaps it back past the bowler and through mid off for a boundary.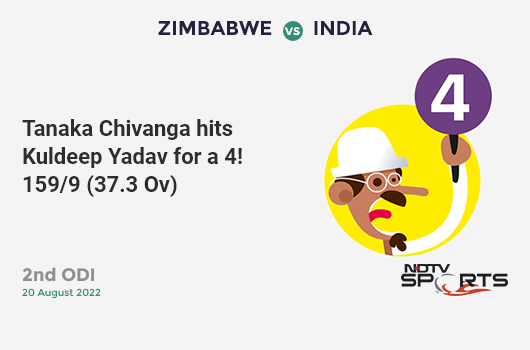 Tanaka Chivanga is the last batter for Zimbabwe.
37.2 overs (1 Run) OUT! RUN OUT! This is tossed up on a length and around middle and off. Ryan Burl looks to whack it down the ground once again but gets a top edge. The ball goes high and around mid off as three fielders converge towards it. The fielder from mid on puts in the dive at the last moment but can't get to it. The batters take this opportunity to get back for the second but there is a mix-up. Victor Nyauchi scampers back as Mohammed Siraj throws it towards the keeper who whips off the bails. The decision is sent upstairs and replays show that Nyauchi is short of his ground.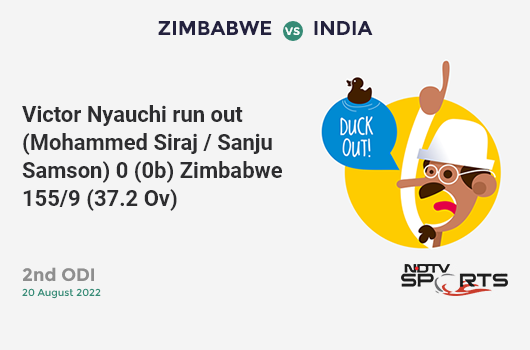 37.1 overs (6 Runs) SIX! Wow, what a hit! Kuldeep tosses it up in the slot and around middle, Ryan Burl just stands tall and smokes it back over the bowler's head for a biggie.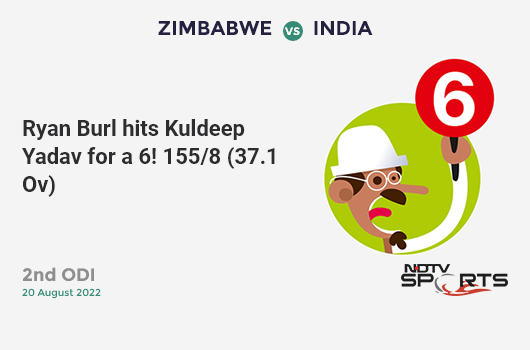 Victor Nyauchi is the number 10 batter for Zimbabwe.
36.6 overs (0 Run) OUT! CHOPPED ON! The stock ball from Axar Patel has done the trick! Axar comes from over the wicket and slides it across the right-hander. Brad Evans goes on the back foot, looking to cut, but is a bit late on it. The ball goes off the inside edge and castles the stumps. Evans departs and Zimbabwe have now lost their eighth wicket.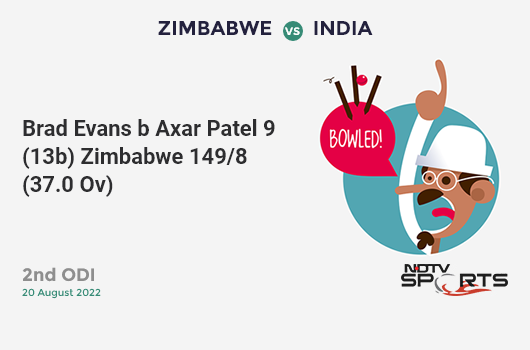 36.5 overs (1 Run) On the pads, this is nudged away leg side for one.
36.4 overs (0 Run) MISSED STUMPING! Axar Patel pulls back the length a bit and floats it up around off. Ryan Burl dances down the track and looks to go big downtown. Ryan misses and the keeper too misses the ball as there is a bit of extra bounce. Sanju Samson should be doing better there.
36.3 overs (1 Run) A tad shorter and on the pads, Brad Evans works it off the back foot and past square leg for one.
36.2 overs (0 Run) Full and at the toes, Evans eases it towards mid-wicket.
36.1 overs (0 Run) This is fired in on off stump, Evans blocks it out.
35.6 overs (4 Runs) FOUR! Drifting down the leg side, Burl moves back and tickles it fine down the leg side for a boundary. Ryan holds the key here for the home team.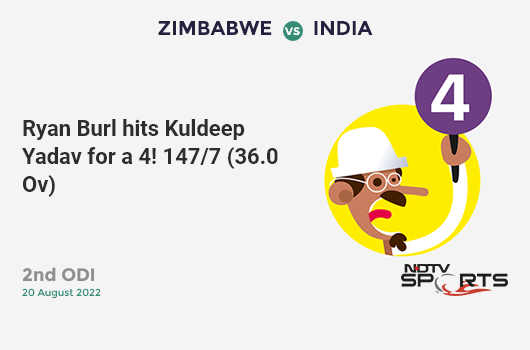 35.5 overs (0 Run) Floated one, landing full around off, Burl is forward as he blocks it towards covers.
35.4 overs (0 Run) Shortish and outside off, cut from the back foot to point.
35.3 overs (1 Run) Quicker and fuller around leg, swept down to fine leg for a single.
35.2 overs (1 Run) Extra flight this time, full and outside off, Burl drives it down to long off for a single.
35.1 overs (0 Run) Loopy and full around off, it's pushed back to the bowler.
Match Reports
Topics mentioned in this article