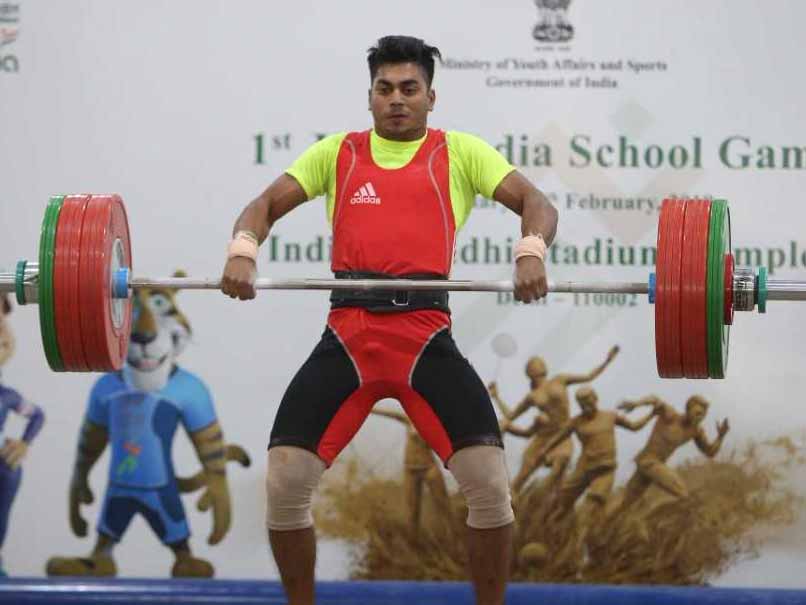 Maharashtra's Achinta Sheuli won gold medal in the boys' 77 kilogram.
© Khelo India
Maharashtra's Achinta Sheuli hardly broke into a sweat on his way to the gold medal in the boys' 77 kilogram class on the third day of the weightlifting competition at the Khelo India School Games on Wednesday. Sheuli registered 134 kilograms in the snatch and picked up 158 kilograms in the clean and jerk for a combined lift of 292 kilograms to take the title. He was a massive 61 kilograms better than his nearest opponent in terms of combined lifts. Sheuli has taken two silver medals in the last two senior national competitions. Pritam Chitvan, also of Maharashtra, lifted a combined weight of 231 kilograms to take silver. Nandan Sahu of Odisha came third with a combined effort of 209 kilograms.
While the four gold medals on offer during the day were split between Maharashtra, Punjab, Telangana and Manipur, it were Maharashtra who took the most. Maharashtra won an additional two silver and one bronze.
Overall Maharashtra have clinched three gold, eight silver and seven bronze in weightlifting.
However, in terms of gold medals, Manipur are the leaders with four gold and one silver. Telangana have also made their presence felt with two gold, one of which came on Wednesday.
In the girls' 69kg competition, Warepam Sapana Devi of Manipur lifted a total of 160kg to take the gold, while Palati Dhathri (Andhra Pradesh) and Shreya Ganamukhi (Maharashtra) took silver and bronze respectively.
The boys' 85kg category saw tough competition with H. Karthik (combined lift 250kg) of Telangana edging out Manipur's Soubam Arbind Singh (combined lift 245kg), with Uttar Pradesh's Popin Janya (combined lift 240kg) settling for bronze.
Jasveer Singh's combined lift of 239kg in the boys' 94kg event gave Punjab their first medal in the weightlifting competition, while Maharashtra's Tejas Lokhande and Nabam Tat of Arunachal Pradesh took the silver and bronze-winning positions to conclude the proceedings on Day 3.