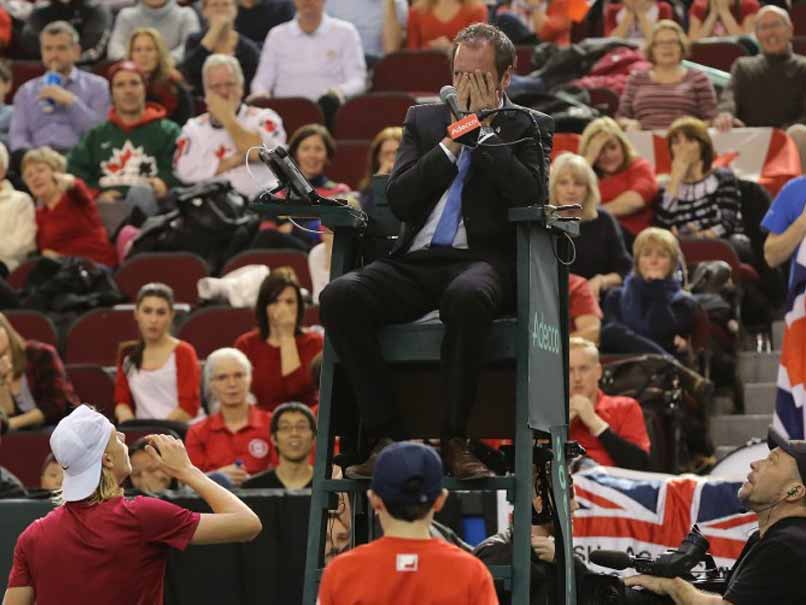 French umpire Arnaud Gabas was hit straight in the eye during the Davis Cup tie.
© AFP
French umpire Arnaud Gabas, who was hit in the eye with a tennis ball by Canada's Denis Shapovalov during a Davis Cup tie on Sunday, said the smack left him looking like 'Rocky'. Gabas said he was lucky to avoid serious injury after being hit in the face by a ball. Shapovalov, 17, handed Britain the Davis Cup tie when he was disqualified against Kyle Edmund on Sunday for bashing the ball in frustration and inadvertently catching Gabas in the eye. Gabas was taken to hospital in Ottawa as a precaution after being left with bruising and swelling around his left eye.
No serious damage was found, but Gabas insisted the incident could have been a lot worse.
"I came off the court looking like Rocky Balboa," Gabas was quoted as saying by Sky Sports.
"The video is quite shocking to look at. We have to avoid some balls during the season but this one I had no chance.
GREAT BRITAIN WINS! #Shapovalov is defaulted trailing @kyle8edmund 63 64 2-1 after hitting the umpire with a ball. into the quarters v pic.twitter.com/f8EVnpkk3N

— Davis Cup (@DavisCup) February 5, 2017
"I feel quite lucky it wasn't worse. Players can be a bit crazy these days.
"I could see he was angry and that something was coming but I never thought he would hit me."
The International Tennis Federation fined Shapovalov $7,000 (6,500 euros), rather than the maximum $10,000, after accepting he had not intentionally struck Gabas after smacking a ball off the court in anger at losing a point.
Gabas said Israel-born Shapovalov, the junior Wimbledon champion, apologised for his actions.
"He was remorseful and shocked when he came to apologise," he said.
"At the moment I'm OK, I'm on painkillers but I have an appointment to see a specialist when I get home."
(With inputs from AFP)