Story Progress
Back to home
Tennis Champion From Wrestling Akhadas
A diamond in the rough; that's perhaps the best way to describe 13-year-old Ajay Malik. A tennis player who trains on makeshift mud courts in his village in Haryana and is now India's No.1 Under-14 tennis player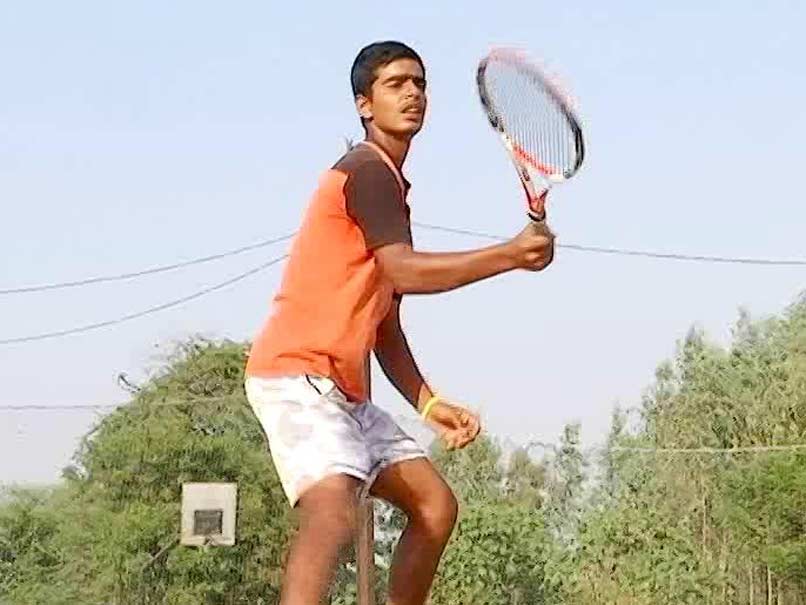 Ajay Malik recently won the Under-14 National Tennis Championship in New Delhi.
© NDTV
Highlights
Ajay Chawla is the new U-14 National Tennis Champion

He practiced tennis on mud courts for wrestling

He hails from Gohana in Sonepat district
The hunt for India's Under-14 national tennis champion took me to a very unlikely place - 125 km from Delhi is a sleepy village of Gohana in Haryana's Sonipat district. Finding a tennis player is tough in this area as this place is known for producing world class wrestlers.
At first sight 13-year-old Ajay Malik looks almost the same as the wrestlers that his father Ajmer Malik trains at his own sports academy. Be it climbing a 5-metre tall Rassa (rope) or pulling tractor tyres for core strength, Ajay does all the traditional wrestling exercises even though he is not a wrestler.
Tennis is his first love. Give him a tennis racquet and he will show you why everyone in the junior tennis circuit is talking about him. But in Gohana there aren't any proper tennis facilities, even the sports academy that his father started only began with mud wrestling and kabaddi pits.
After discovering his son's love for tennis, Ajmer Singh built a tennis court with his own bare hands. If you climb to the terrace of his house which sits next to the academy, you can see acres of agricultural land surround the makeshift tennis courts which are now three in number. They aren't cemented or clay courts but instead they are built on plain mud, with the tram lines marked with a plastic rope.
Despite the meagre facilities available to him, Ajay went on to win the national Under-14 tennis championship. A feat that has surprised a lot of people considering he started playing tennis just three years ago.
During the final on the centre court of New Delhi's RK Khanna Tennis Stadium, Ajay played with just one racquet. His only other racquet was broken as he couldn't afford to have it repaired, let alone buy a new one.
Back home, Ajay doesn't rely on professionals to maintain his racquets. Give him 30 minutes and he can string his racquet himself, something that usually costs Rs.1500-2000 in the city. He also drank only water during the tournament because he couldn't afford energy drinks. But the 13 year old wasn't bothered.
"I don't worry about what I don't have, I know my game is better than everyone playing against me so I don't worry about these things," he said.
Ajay's coach Sombir Malik, a local boy himself, is surprised with his student's achievement. This, in fact, is Sombir's first stint as a coach and he's already produced a national champion. "I still can't believe that we have reached this stage, we just kept practicing and we reached so far so quickly."
They say necessity is the mother of invention and that's exactly what Sombir did. He would observe the coaches in the city while accompanying Ajay along with research on the internet and that's what helped the pair. So how did a village boy who was given desi coaching win the national championship? Ajmer Malik has the best possible explanation.
Promoted
"Tennis coaches and players told me that my desi technique is wrong, this will have an adverse effect on the kid. It doesn't match with tennis. But then I saw that matches there comes a time when both players are tired and that's when Ajay excels courtesy this wrestling inspired training."
Just like any other 13-year-old who plays tennis, Ajay wants to become the World No.1. To help him realise this dream, Ajay is now getting offers to go play abroad in various tennis academies.
Topics mentioned in this article