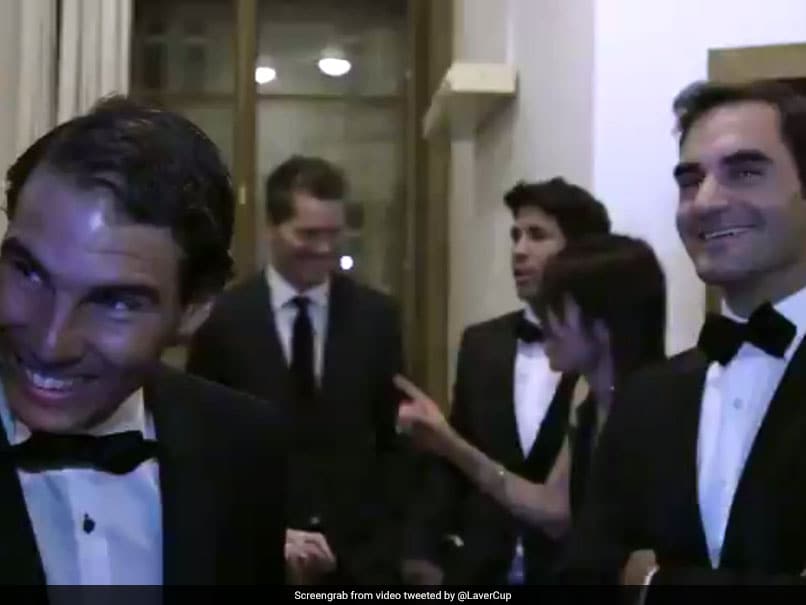 Rafael Nadal and Roger Federer seem to share a great rapport off the court.
© Twitter
When two legends like Roger Federer and Rafael Nadal step on the court there is little doubt that the fans are in for a treat. The duo have shared a fierce on-court rivalry and have pretty much dominated the tennis circuit for more than a decade now. However, the two stars seem to share a great rapport off the court. The mutual respect that the two share has been seen numerous times when they have spoken about each other, especially after epic Grand Slam final battles, of which they have had more than their fair share. From rivals, now the dynamic duo are teammates at the Laver Cup for Team Europe. On Friday as the tournament kicked off, Federer introduced Nadal and the Spaniard's reaction to it was just pure gold.
 
Federer and Nadal have face each other 37 times in official matches during the last 13 years, including three times in 2017, and the bonhomie between the two is clear for all to see.
While the task of introducing 19-time Grand Slam winner, Roger Federer, was put on the young shoulders of Alexander Zverev, the Swiss maestro was handed the microphone to introduce Nadal, a 16-time Grand Slam champion.
World No.1 @RafaelNadal needs no introduction, but @RogerFederer gave him one anyway! #TeamEurope #LaverCup pic.twitter.com/QueRtDojds

— Laver Cup (@LaverCup) September 22, 2017
Meanwhile, Marin Cilic, Dominic Thiem and Alexander Zverev won their opening singles to put Team Europe ahead of Team World after day one of the inaugural Laver Cup in Prague.
Nick Kyrgios and Jack Sock then handed Team World their first point by beating Tomas Berdych and world number one Rafael Nadal in the day's closing doubles rubber to round off the score at 3-1 for Europe
With four matches a day -- three singles and a doubles, the players can earn a point for each win on Friday, two on Saturday and three on Sunday.
Skippering Team Europe, Bjorn Borg decided to rest world number two Roger Federer on Friday while John McEnroe decided not to use his highest-ranked player, 16th-ranked Sam Querrey.
Federer and Nadal will most likely play together in earnest for the first time this weekend.