Paris: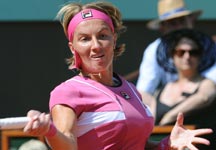 Denmark's world number three Caroline Wozniacki is the only teen currently in the top 25 and Russia's Kuznetsova believes the failure of others in the Dane's age group to make a breakthrough is due to their own arrogance.
"All the teenagers come, or their parents or their agents, and they think they are so good. I don't see them respecting the other players like we did when we came," said Kuznetsova, who won the US Open as a 19-year-old in 2004.
"I played Kim Clijsters, Justine Henin and you're like, 'Wow'. They're big. You have respect. You want to be like them.
"They (the teenage players) come now and see themselves equal to other girls, and it's not like that. These girls have been here forever. They've done so much for tennis.
"This is a part of it. Then physically, I don't see them well prepared or mentally strong."
Kuznetsova, who saved four match points to see off Germany's Andrea Petkovic in her French Open second round clash on Wednesday, will face compatriot Maria Kirilenko on Friday for a place in the last 16.
French Open champion Svetlana Kuznetsova has blasted her teenage rivals, claiming ambitious youngsters have no respect for the sport's high-achievers.