Story Progress
Back to home
ATP Finals: Grigor Dimitrov Says He Is Not 'Baby Fed' Anymore
Dimitrov has never quite lived up to his billing as the heir to Roger Federer's throne, but the world number six's eye-catching rout of Goffin was a reminder he is still young and gifted enough to finally make the breakthrough.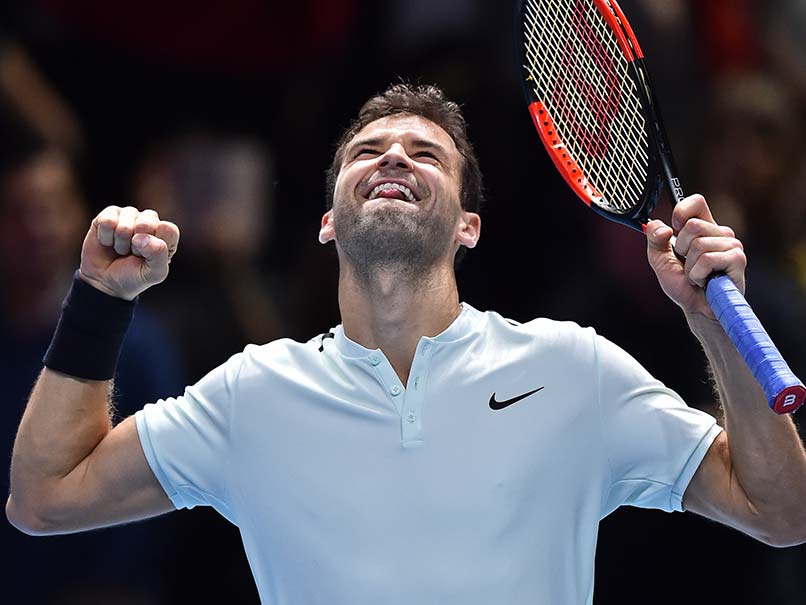 Grigor Dimitrov beat David Goffin 6-0, 6-2 in the ATP Finals.
© AFP
Highlights
Grigor Dimitrov insists he is no longer playing in Roger Federer's shadow

Dimitrov has become the first Bulgarian to qualify for Tour Finals

Dimitrov won the junior Wimbledon title in 2008
Grigor Dimitrov insists he is no longer playing in Roger Federer's shadow after the Bulgarian capped the best year of his checkered career by reaching the last four at the ATP Finals.
When Dimitrov first burst onto the scene by winning the junior Wimbledon title in 2008, his immaculate one-handed back-hand and flamboyant stroke-play earned instant comparisons with Swiss great Federer.
But Dimitrov struggled to live up to the hype and, amid doubts about his commitment to the sport, often found himself written off as a serial underachiever.
For a while, Dimitrov's playboy lifestyle meant he was better known for his spell as the boyfriend of Russian star Maria Sharapova than for anything he accomplished on the court.
But, having finally shaken off his demons, Dimitrov has become the first Bulgarian to qualify for the season-ending Tour Finals after reaching a career-high sixth in the ATP rankings earlier this month.
He has enjoyed victories over Dominic Thiem and David Goffin, the Belgian crushed 6-0, 6-2 on Wednesday, to book his place in the semi-finals at London's O2 Arena.
Asked if he felt free of the Federer comparisons at last, Dimitrov said: "I think the comparisons and all this, they don't really matter any more.
"As I said before, I'm saying it now, I'm really looking after my game and what I'm doing right.
"I think one of the wrong things you can do is to try to follow somebody else or try to, as I said, follow in the footsteps, the things that they have done."
It's been a long road to redemption for Dimitrov.
Even when he beat defending champion Andy Murray en route to his first Grand Slam semi-final at Wimbledon in 2014, Dimitrov couldn't summon up the consistency needed to sustain his place at the highest level.
Crossroads
He failed to make the quarter-finals of any of the next nine majors and entered 2017 at a career crossroads.
"You mentioned only one girlfriend in there? Man, C'mon! And you missed two other countries I lived in. Anyway, fair enough, fair enough," he said when quizzed on his career ups and downs.
"The tennis lifestyle, it can go in so many directions, man. I mean, one day I would like to talk about it, absolutely.
"I think everyone is going to hear. I think I have a lot to say on that matter. Right now, I'm enjoying one of my best seasons. I'm still here, happy.
"Obviously, things have gone better than expected and I appreciate that."
Another season of failure might have consigned Dimitrov to the scrapheap.
But the 26-year-old has been revitalised under the guidance of coach Dani Vallverdu, who had previously worked with former world number one Murray.
He ended a two and a half year title drought by winning tournaments in Brisbane, Sofia and Cincinnati, the latter in a Masters 1000 event that ranks as the biggest prize of his career.
Dimitrov also made it back to the last four at a Grand Slam, pushing Rafael Nadal to five sets before losing a classic encounter at the Australian Open.
Promoted
"Dani Vallverdu deserves a lot of credit. He came into the team at a very crucial moment a couple of years ago," Dimitrov said.
"Without that, I wouldn't be the same guy."
Topics mentioned in this article